If you are looking to find a real review of Parent's Choice diapers, you have come to the right post. In this post, you will find a detailed review with pros and cons and my thoughts on that to help you know it better.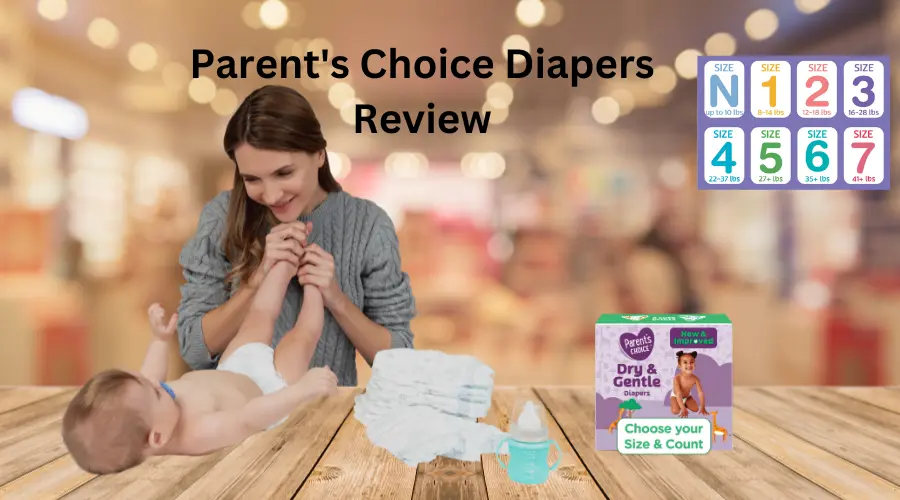 Let's get started!
Parent's Choice Diapers Review
The internet is flooded with mixed reviews about Parent's Choice diapers. While some reviews praise its low price and good quality, others are critical of its low absorbency, especially at night.
The general review about this brand is that it may be great for your pocket but may not be the best product for your baby.
Here is the Overall Review:
Parent's Choice Diapers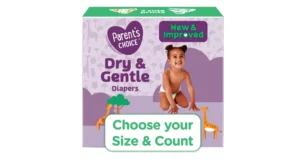 Parent's Choice Diapers is actually a good choice if you are looking for a good quality budget diaper. For daily usage it performs quite well and serves the purpose.
Product Brand: Parent's Choice
Product Currency: $
Product In-Stock: InStock
Diaper Quality
Apparently, the quality of the Parent's Choice diapers is good as per the market standard. 
Comfort
Most parents opined that Parent's Choice is comfortable for kids. In addition, the fasteners do not rub against the skin or irritate the baby's soft skin. 
Diaper Fit
The diapers are stretchy and fit well so the baby can move freely. They sit around the waist well and keep the product secure. 
Liquid Absorption
Parent's Choice diapers are good for daytime use because they absorb well, locking the wetness into the diaper's core and keeping the baby's skin dry.
However, some complaints are there regarding its nighttime absorbency. 
Ingredients Used in Parents Choice Diapers
It is rather surprising that the manufacturers do not disclose the material they use to make Parent's Choice diapers.
The manufacturer only states that the products are latex-free, perfume free, and hypoallergenic. Besides, no detailed information regarding the chemicals used is provided. 
Size Available
The sizes of Parent's Choice diapers range from Newborns to size 6. However, many parents have experienced that these diapers are a bit smaller than competing brands.
Hence, one needs to bump up the size while purchasing. For example, if a baby needs size 3 of other brands, it will require size 4 of Parent's Choice. 
Cost
The cost of diapers keeps on growing as the baby grows. For example, in a pack of Parent's Choice, the customer gets 23 diapers compared to 13 diapers from other leading brands. Therefore, the per unit cost of diapers is lower in the case of Parent's Choice.
Pros and Cons of Parent's Choice Diapers
Pros
The biggest advantage of this product is its pocket-friendliness. Some parents find this extra product absorbent.
They opine that it did not leak throughout the night. The diapers did not break or fall. The gel did not come off.
Even after extensive overnight use, these diapers say strong. Also, they are super soft but do not tear during use. 
Cons
There is a lack of transparency regarding the materials used in the diapers. Besides, it has a low health score and is not considered an eco-friendly product. 
Final Verdict: Should You buy it?
Being a budget-friendly option for daytime use, Parent's Choice can find a place in the parents' monthly bucket list. It is not possible to always afford or use high-end products with premium prices.
Parents need something affordable for regular use. Parent's Choice is a good product at an affordable cost that serves almost all the purposes of comfort and protection that a baby usually requires. It is meant for general use and not for use like night protection.
It has good quality and is easy to use. Its purchase offers value for money for regular use. 
No products found.
Frequently Asked Questions
Are Parents Choice diapers Walmart brand?
Yes, Walmart manufactures Parent's Choice diapers. 
Do Parents Choice diapers expire?
As such, Parent's Choice diapers do not have particular expiry dates. But the manufacturer recommends using them within two years of purchase. 
Conclusion
Let's conclude the post on Parent's Choice diapers review!
I hope you got detailed information regarding it and found it helpful.
What's Next?
There are several other High-Quality diapers in these reviews as below.
Thanks for your feedback!