We all know and love Huggies, the disposable diapers that have become a staple for many parents across the globe. But, who owns Huggies? And what is the history behind this popular brand?
If you have a similar question, then you may be surprised to know that the very big brand Kimberly-Clark owns Huggies.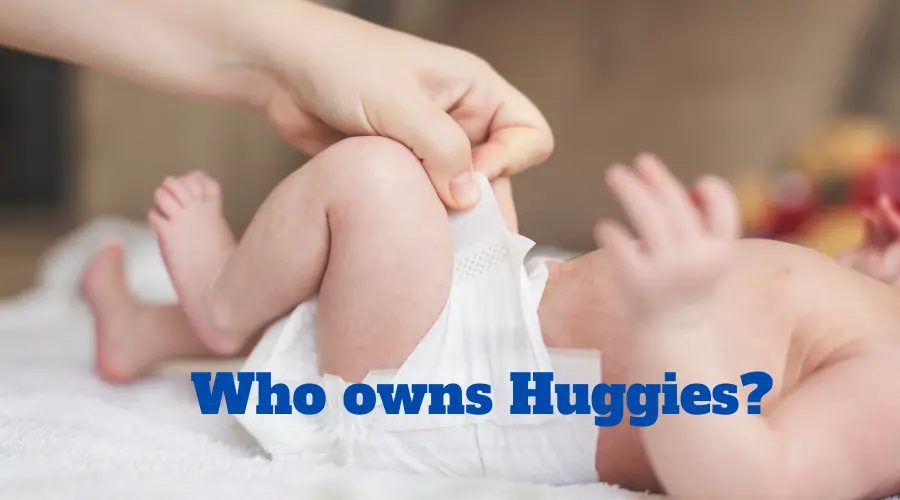 Let's get started!
Who owns Huggies?
Kimberly-Clark​​ owns the Huggies brand. This American multinational is headquartered in Irving, Texas.
The Huggies came to be tested in 1968 in the test market as a Kimbie brand and were later introduced to the mass public in 1978. Now, in 1978, it was renamed Kleenex Huggies.
Where are Huggies diapers made?
Huggies diapers sold in the USA are made in the USA. In the USA itself, it has 18 manufacturing units across the country. Besides, the company has a massive presence in more than 170 locations and 63 countries. 
About Huggies Brand and Its History
For many parents, their parenting journey could not have been complete without brands like Huggies. Especially for first-time parents dealing with a newborn seems an uphill task.
The superior quality of diapers and wipes takes a lot of worries away from the new parents. The wide range of products offered under the brand Huggies allows them to choose the right kind of diapers for their babies.    
Kimberly-Clark started test marketing its disposable diapers way back in 1968. It introduced a brand called Kimbie's but was unsure of its sustainability in the market.
Then in 1978, it started marketing Huggies as a brand, which soon became a market leader.  
A brief Timeline of Huggies History
| | |
| --- | --- |
| Year | Events for Huggies |
| 1968 | Huggies was introduced and launched as Kimbie's diapers and was Renamed Kleenex Huggies In the year 1978. |
| 1983 | The first diaper to have re-fastenable tape on its waistband    |
| 1990 | Started producing plant-based wipes |
| 1997 | Introduced disposable swim pants  |
| 2017 | Launches Little Snugglers, Nano Preemie Diaper, and Natural Care Extra sensitive wipes |
| 2019 | Introduces Special Delivery: softest plant-based diaper in its product range   |
Reference: Huggies Official Website
Types of Products from Huggies Brand
Huggies Brand manufactures several different types of Baby products of different categories in diapering like Baby Diapers and Wipes.
1. Diaper Types from Huggies Brand
Here are the different Huggies Diaper By names:
| | |
| --- | --- |
| Huggies Diaper Types | Size Ranges |
| Huggies Special delivery  | Newborn to Size 6 |
| Huggies Little Snugglers | Preemie  to  Size 6 |
| Huggies Little Movers | Size 3 to Size 7 |
| Huggies Snug & Dry | Size 1 to Size 6 |
| Huggies Overnites  | Size 3 to Size 6 |
| Huggies Little Swimmers | Size 3 to Size 6 |
2. Training Pants and Bedwetting Products from Huggies
Huggies also have Training pants and bedwetting products as follows:
Pull-Ups Training Pants
Goodnites Bedwetting Products
3. Baby Wipes from Huggies
Here are the different Baby Wipes variants from the Huggies brand:
Huggies Special Delivery Wipes
Huggies Natural Care Sensitive Wipes
Huggies Natural Care Refreshing Wipes
Huggies Nourish & Care Wipes
Huggies Simply Clean Fragrance-Free Wipes
How are Products from Huggies Brand?
Huggies is a brand whose products are meant to give babies protection and keep them dry and healthy.
As a result, each component of Huggies diapers is developed keeping in mind the baby's soft and sensitive skin, the possibility of exposure to irritants, excessive moisture, and friction.
Each diaper helps the baby stay clean and healthy. Huggies diapers promote breathability so that baby's skin remains cool and comfortable.
They separate the liquid and the baby's skin so that it is not exposed to irritants contained in urine and poop. This also balances the skin moisture.
The wetness indicator pocketed the back waistband, and the absorbent core helped achieve the results.  
The material that touches the baby's skin is made with plant-based materials and hence is soft and gentle to the sensitive skin. These products are dermatologically tested to ensure they are safe for a baby's gentle skin.
Last but not least, Huggies diapers are paraben free, fragrance-free,  lotion-free, and free of elemental chlorine. 
Despite so many qualities that make Huggies what it is today, some users observed that the diapers are bulkier than other diapers. It gets even bulkier when wet. Also, there are some complaints of leaks from the diaper. 
Competitor Brands of Huggies
The top competitors of Huggies are as follows: 
Pampers (a Proctor & Gamble brand),
All Good (a Brand of Proctor & Gamble),
Luvs from Proctor & Gamble,
Moony (by Unicharm)
Johnson & Johnson
Tesco Plc
HelloBello
Kanga Care
Honest Company
Coterie
Costco
Is Huggies owned by Disney?
Huggies is not owned by Disney, but Disney and Huggies share a long relationship. In 2015, Kimberly-Clark Corporation entered into a strategic alliance with Walt Disney Parks and Resorts.
As per the collaboration, Kimberly-Clark increased its supply of products, including Huggies, to the baby care centers of Walt Disney World Resort, Disneyland Resort, and Disney Cruise Line.
These baby care centers offered parents multiple facilities like changing diapers for the babies while visiting the Walt Disney World Resort and Disneyland Resorts.
These centers also provided Huggies baby care and family care products such as diapers and wipes, tissues, and training pants.
In other words, World Resort and Disneyland Resort hosted retail outlets where all these products would be available.    
Are Pampers and Huggies from the same company?
Pampers are Huggies are not from the same company. They are two competing brands.
Proctor & Gamble is the owner of Pampers. On the other hand, Huggies is owned by Kimberly-Clark Company.
Who owns Kimberly-Clark Company?
Institutional shareholders own 73.48% shares of Kimberly Clark whereas Kimberly Clark insiders merely hold 0.60% of shares. The retail investors own the remaining 25.92% of the shares.
The institutional investors include Vanguard Group, BlackRock, State Street Corporation, and others. The following table will indicate the percentage of shares of each of the institutional investors 
| | |
| --- | --- |
| Name of the Institutions Owning Shares in Kimberly Clark Company | Percentage of shares |
| Vanguard Group Inc | 8.48 |
| Blackrock Inc | 8.37 |
| State Street Corp | 5.53 |
| Capital Research Global Investors | 3.23 |
| Price T Rowe Associates Inc | 2.55 |
| Massachusetts Financial Services Co | 2.25 |
| Geode Capital Management LLC | 1.81 |
| Charles Schwab Investment Management Inc | 1.72 |
| Wellington Management Group LLP | 1.69 |
| Invesco Ltd | 1.44 |
Reference: https://www.wallstreetzen.com/stocks/us/nyse/kmb/ownership
Conclusion
Let's conclude the post on who owns Huggies!
So, as we learned about Huggies, they have a very interesting history and an amazing product range.
The quality of their products is what makes this brand one of the bigger players in the diaper industry.
You may also look into the difference between Huggies and Pampers, to know more about how they stand in comparison.
I hope you liked reading the post.
Thanks for your feedback!