Huggies and Pampers are very well-known brands in the Diaper industry and everyone knows them well. The high-quality manufactured products delivered by them are great in general.
However, if you just pick up a random diaper only by looking at the size, it may not work well for you. You need to research and know before choosing a diaper for your baby.
I have done comprehensive research on the different variants available from Huggies and Pampers diapers. In this post, I would compare the Huggies and Pampers diapers in each of the things we consider before buying them.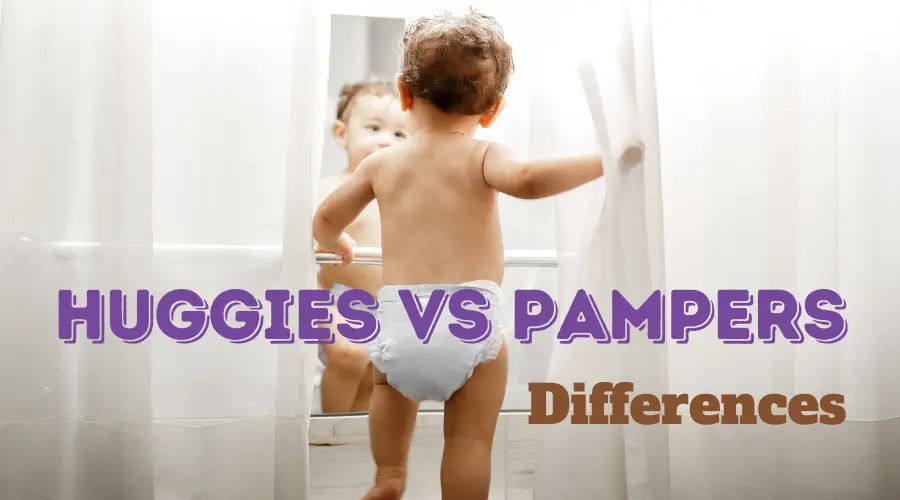 Let's get started!
Huggies vs Pampers Diapers Comparison Table
| | | |
| --- | --- | --- |
| | Huggies Diapers | Pampers Diapers |
| Who manufactures the product? | Kimberly-Clerk | Proctor & Gamble |
| What is the size range? | Upto size 6 | Upto size 7 |
| What is the level of comfort?  | The level of comfort is less due to the use of slick plastic material.  | The comfort level is higher due to the use of soft and fluffy material |
| What is the absorbency capacity? | The absorbency capacity is relatively less. Prone to leaks. | Absorbency is relatively high with proven no leak prevention.   |
| How is the umbilical cord clearance?  | Better belly clearance.  | No such additional feature but is loose enough around the belly not to irritate the umbilical cord cut-out.  |
Huggies Diapers Review
Huggies specializes in diapers, training pants, and baby wipes. It has a wide range of products which are listed below for your convenience. Huggies is Owned by the Kimberly-Clark brand.
What makes this group of diapers distinct is that it gives protection and comfort with belly clearance on the umbilical cord cut out.
As a result, you can use these diapers for newborn babies. Also, the materials used in these products meet the regulatory requirements of specified authorities and hence they are safe for use on babies of all ages including preemies.
These diapers are made from chlorine-free wood fluff pulp, and they do not contain harsh chemicals like phthalates.   
Huggies Variant with Size Available
| | |
| --- | --- |
| Huggies Diaper Types | Size Ranges |
| Huggies Special delivery  | Size N to Size 6 |
| Huggies Little Snugglers | Preemie to Size 6 |
| Huggies Little Movers | Size 3 to Size 7 |
| Huggies Snug & Dry | Size 1 to Size 6 |
| Huggies Overnites  | Size 3 to Size 6 |
| Huggies Little Swimmers | Size 3 to Size 6 |
Pros:
Hypoallergenic,
paraben-free,
fragrance-free,
0% chlorine, and latex. 
Cons:
Verdict in Detail:
Huggies diapers are worth the price. But parents may get confused with diaper sizes. For their convenience, the following table matches different Huggies diapers with their sizes. 
Pampers Diapers Review
Pampers has a high reputation for being the softest and most comfortable diapers on the market. Pampers is owned by P&G Brand.
These diapers are thin and soft both from inside and out. As a result, it can easily take the shape of a baby's body and fits well. Moreover, Pamper diapers are safe for baby's skin.
The manufacturer does not use dyes to give the material a cloth-like appearance because dyes can cause allergies. Instead, they use pigments that are non-allergic and skin safe.
However, some parents company that it is slightly oversized for a newborn. Nonetheless, among its different variants, Pamper Swaddlers is the top choice of most Pamper lovers. 
Huggies Variant with Size Available
| | |
| --- | --- |
| Pampers Diaper Types | Size Ranges |
| Pampers Special Delivery | Size N to Size 6 |
| Pampers Baby Dry | Size 1 to Size 6 |
| Pampers Cruisers | Preemie to Size 6 |
| Pampers Swaddlers | Preemie to Size 3 |
| Pampers Pure | Size 0 to Size 6 |
Pros
Thin, soft, great fit, belly button notch 
Cons:
Possibility of rash, distinct strong diaper smell.
Verdict in Detail
Some parents may find Pampers products a bit expensive but none can claim that the extra money spent is wasteful in any way. The high-quality product and its efficient functionality make every penny spent on the product worthwhile. 
Product Variants
| | |
| --- | --- |
| Huggies  | Pampers  |
| Little movers | Swaddlers |
| Little Snugglers diaper | Baby-Dry |
| Snug and Dry | Pampers Cruisers |
| Overnight Diapers | Easy Up |
| Pure and Natural diapers | UnderJams |
| Pull-Ups training pants | Pure protection |
| Special Delivery | Pampers Cruisers 360 Fit |
| Little Swimmers | Overnights |
Diaper Material Quality
The material used to make Huggies diapers feel more artificial and plastic-like from the outside. But Pampers have a more fabric-like feeling from the outside.
Inside both brands use organic cotton and a pH-balanced liner. For example, Huggies Special Delivery diapers are made with plant-based materials for the perfect care of baby's skin.
On the other hand, Pamper products are made using elemental chlorine-free fluff pulp, light fragrance, and super absorbent polymer. Pampers source the elemental chlorine-free fluff pulp sustainably.   
Waistband Quality of Pampers and Huggies
The waistband of both the products is good. However, Huggies seems thicker and studier than Pampers. The Huggies waistband is made of a plastic tab which makes it easier to rip off for a quick change.
Pamper waistband, on the other hand, is Velcro-like which may give a stronger hold but may take more time to rip off.  
Inner Diaper Liner Comparison
The inner diaper liner of Pamper is softer than that in Huggies. Both brands use high-quality material but Pampers feels softer and fluffier than Huggies. 
Size and Fit of Huggies and Pampers
| | | |
| --- | --- | --- |
| | Huggies | Pampers |
| Preemie | 6 lbs and under | 6 lbs and under |
| Newborn | up to 10lb | up to 10lb |
| Size 1 | 8-14 lb | 8-14 lb |
| Size 1-2 | 15 lb | 15 lb |
| Size 2 | 12-18lb | 12-18lb |
| Size 3 | 16-28lb | 16-28lb |
| Size 4 | 22-37lb | 22-37lb |
| Size 5 | 28+ pounds | 28+ pounds |
| Size 6 | 35+ lbs | 35+ lbs |
| Size 7 | | 41 lbs and over |
In terms of fit, Huggies diapers are bulkier between the legs than Paper diapers. However, Pamper diapers tend to be loose around the baby's backside, whereas Huggies have a snugger fit against the back.    
Comfort
In terms of comfort, both brands have good products. But Pampers has a comparatively higher comfort level than Huggies due to the soft and fluffy material used. 
Price Comparison
Since both brands offer different types of diapers the price comparison becomes a bit challenging.
However, on average, Huggies cost  $0.24 to $0.31 per diaper, whereas Pampers cost about $0.24 to $0.32 per diaper. So, there is not much difference in the prices of the two brands.  
Liquid Absorbency and Leakage
Huggies and Pampers are known for their high absorbency capacity. The difference lies in the fact that Huggies has an extra layer that feels like beads.
This layer supposedly takes the wetness away from the baby's skin onto the diaper. However, some parents have observed that these beads do not make much difference especially when the baby is wearing the diaper for a long time.
Instead, Huggies diapers tend to leak the liquid through these beads. 
Pamper on the other hand does not have this extra layer, yet is as good as Huggies in terms of absorbency. Moreover, Pampers seldom get complaints of leakage. 
Overnight Usage
Both brands have overnight diapers that are comfortable and have high absorption capacity. Parents can choose Huggies Overnites or Pampers Overnights for overnight use.
They offer 12 hours of protection. Besides, Pampers Swaddlers can also be used for night usage. Some studies have found Huggies Overnites better than Pampers Overnights.  
Wetness Indicator
Both brands have wetness indicators. There is a yellow line running from the front of the diaper to its back which turns blue when the baby is wet.  
Pampers vs Huggies: Which is better?
Interestingly, Huggies and Pampers have similar products with almost the same functionality. It is always close competition between the two.
In some points Huggies pipe Pamper and in others Pamber beat Huggies. It is not easy to determine which one is better than the others.
Many surveys have tried to ascertain a clear winner but the results have always been inconclusive. Diapers are a matter of personal preference.
Some parents like Huggies for their sturdiness while some parents prefer Pampers for their softness and higher absorbency.
However, the leakage issue sometimes deters many parents from buying Huggies. Another point is the baby's skin. Although both products are developed to suit babies' gentle and often sensitive skin, some babies respond better to Huggies while some feel happier in Pampers.
In general, it has been observed that for babies with sensitive skin Pamper is a better choice whereas for active babies Huggies work better. Also, Huggies is for older babies, but Pampers is for newborns.
Here are more head-to-head differences between Pampers and Huggies Diaper variants related to this:
Conclusion
Let's conclude the post on the comparison of Huggies vs Pampers!
None of the brands are bad and their products are great and well-accepted by people. You just need to choose the right one for your baby's needs.
I hope you liked reading this post.
Thanks for your feedback!