Pampers brand is one of the most well-known brands trusted by millions worldwide.
But, who owns Pampers is not known by all. The answer may surprise you! Pampers is actually owned by Procter & Gamble (P&G), one of the largest consumer goods companies in the world. P&G also owns other popular brands like Tide, Gillette, and Olay.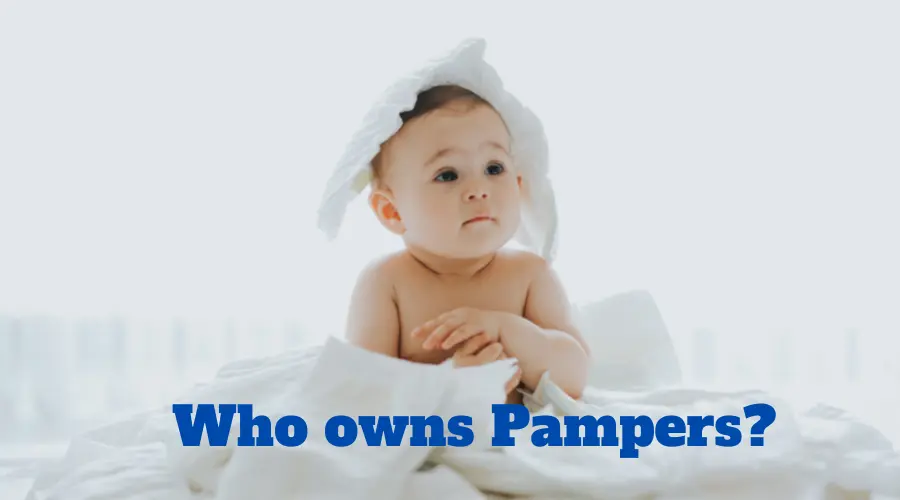 Let's explore more about the Pampers Brand and the company behind it in this post.
Who owns Pampers?
Pamper is a well-known baby and toddler brand. Procter & Gamble markets products under this brand. 
The company manufactures and sells diapers, baby wipes, and other related products. Pampers is one of the most popular brands of baby products in the world and is sold in over 150 countries.
P & G is one of the largest consumer goods companies in the world. Procter & Gamble was founded in 1837 by William Procter and James Gamble, and it has since grown to become a global powerhouse.
Procter & Gamble has dozens of well-known brands in its portfolio for baby care, including allGood, Charlie Banana, Luvs, and Ninjamas.
Who created Pampers?
A researcher in Procter & Gamble laboratory, Victor Mills, came up with the idea of creating disposable diapers for babies way back in the 1950s.
The inventor of Pampers Victor Mills was from Milford, Nebraska, and was an American Chemical Engineer who worked for Proctor & Gamble Brand.
When were Pampers invented?
According to Official P&G, Pampers diapers were invented in 1961.
History of Pampers
Pampers has a fascinating history. Its invention again proves the eternity of the adage "necessity is the mother of invention."
Fed up by changing nappies repeatedly, Victor Mills, a researcher at P&G and a grandfather, decided to come up with something that would let baby's caregivers some respite from this tedious job.
The concept of disposable diapers was thus born. The research led to the development of a product which was named Pampers.
It was a disposable diaper that would keep the baby dry and the caregiver happy. It was way back in the 1950s.
Over the years the product was improved and augmented to cater to different aspects to keep the baby dry, comfortable, and safe. The table below summarizes the journey of Pampers from its inception.    
Year
Developments and New Products Inclusion in Pampers Brand
The 1950s
Pampers was born; introduced Z-pleats for stretch and stay-dry lining
The 1970s
The pin was replaced with tapes. New variants emerged: Pampers Toddler Size, Extra Absorbent Daytime, Improved Newborn, Quilted Pampers, and Premature Infant Size
The 1980s
1. Elasticized single and double gussets around the leg and waist areas;
2. Value packs Elasticized wingfold diaper
3. Thin diaper using absorbent gelling material
4. Frontal tape systems
The 1990s
1. Thinner diapers known as Ultra Dry Thins were introduced.
2. Gender-specific diapers
3. Training pants
4. The largest diaper of the time Pampers Baby-Dry Size 6
The 2000s
Introduced Baby Stages of Development, a complete line of diapers, training pants, and wipes designed for every stage of a baby's development.
2018
Pampers Pure: Eco-friendly diapers
References for this detailed History: Source 1, Source 2
How was Pamper invented?
Victor Mills who revolutionized baby care was a grandfather to a toddler. Mills was frustrated changing the clothes for the baby and decided to invent something that will lessen this hassle.
Along with his fellow researchers in the P&G's Exploratory Division in Miami Valley, Ohio, he invented improved disposable diapers. Researchers Victor Mills and Norma Lueders Baker jointly developed this product.
Later, the creative director at Benton & Bowles, an advertising agency, coined the name Pampers.   
What country are Pampers made in?
According to P&G, Pampers is made in 100 countries across the globe catering to around 25 million babies.  
Are Pampers and Huggies from the same company?
Pampers and Huggies are the two leading brands in the diaper section of baby care. But they are not from the same company. While P&G produces and markets Pampers,  Kimberly-Clark is the producer and marketer of Huggies.
Why did Pampers fail in China?
P&G entered China in 1985 but started selling diapers in 1998. During that time, Chinese parents were not aware of the concept of disposable diapers. They were using traditional split pants, which seemed to work well.
Understanding the low demand for disposable diapers in the Chinese market, P&G introduced a kind of diaper that was a cheaper and inferior version of its original product.
This was their first mistake. They assumed Chinese customers to be naïve and unaware, while the emerging middle class of China was looking for what is best and not what is cheaper.
This class did not mind paying some extra money to get a premium quality product. P&G missed this point. They underestimated the sophistication of Chinese consumers. 
The second reason for which Pampers failed in China was tough competition from Kao's from Japan. When the Chinese consumers experienced low-quality of diapers from P&G, they simply shifted to other imported products, which pulled P&G's diaper sales further down. 
The third reason for which P&G could not succeed in China was their inability to understand that when Chinese people will purchase their products the baseline of purchase decision will be quality and not price.
If Chinese consumers wanted low-price products they can approach indigenous brands, not P&G.
It seemed P&G undervalued the choice and preferences of Chinese customers and did not study them in-depth before strategizing the product launch.
References for this Section:
https://www.linkedin.com/pulse/lessons-from-sales-decline-procter-gamble-china-market-eric-zhou-%E5%91%A8%E6%AD%A6/
Conclusion
Let's conclude the post on who owns Pampers!
Pampers is a company that is constantly innovating and improving its products. They are a company that puts the needs of babies and parents first. Pampers is a company that is truly dedicated to making the world a better place for children.
You may also like to read the comparison of Pampers vs Huggies, to know more about how it compares with one of its biggest competitors.
I hope you liked reading the post and found this helpful.
Thanks for your feedback!