In the Monopoly Game, there are several Pink properties to look into. In this post, I will discuss how are those, strategies, and more. Also, I will talk about the Pink Monopoly Boutique Edition Game.
Let's get started to know more!
What are the Pink Properties in Monopoly?
In the Monopoly game, the properties and their nature are distinguished based on the colors. Each genre of property in Monopoly is dedicated to a particular color to reflect its unique features and make identification hassle-free. Properties of several colors can be found in the Monopoly game.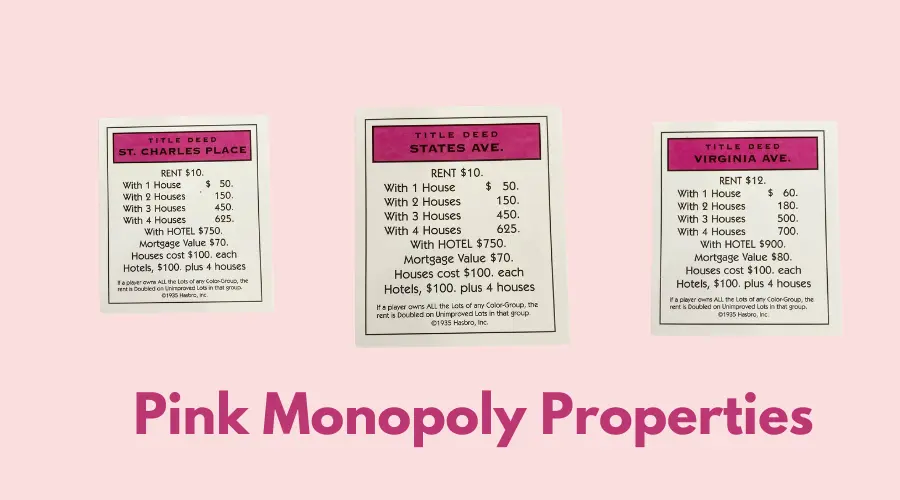 Pink / Light Purple / Magenta color property is a specific group of properties situated between two property groups – orange and light blue. Around the pink properties in Monopoly, there lies a Jail space and a second railroad.
A utility area is also prevalent between the first and second properties of the set.   
Pink properties lie on the side of the board and are second in the queue. They are more expensive and hold a higher value than the first property group on the side. When comparing the payoff percentage, the pink properties are 4th among the top 10.
Regarding landing probabilities, it ranks 7 in the list of top 10 properties on the Monopoly board. Pink properties are the best shots in the game beginning. If you can acquire them right at the start, they can help you gain rent and enhance your cash reserve throughout the game.
List of Pink Properties in Monopoly
Here is a list of pink properties:
UK Standard Edition
Pall Mall
Northumberland Avenue
White Hall
US Standard Edition
Virginia Avenue
States Avenue
St.Charles Place
Monopoly City
Central Quay
Old Town
Harbor Heights
Monopoly Junior
US Mega Edition
Maryland Avenue
States Avenue
St.Charles Place
Virginia Avenue
Monopoly Space Edition
Sun
Corona
Solar Flare
Sunspot
How Much is Pink Worth in Monopoly?
Not all the pink properties in Monopoly are of the same worth. There have distinct prices. Let us quickly look at the worth of various Monopoly properties:
UK Standard Edition
| | |
| --- | --- |
| Property | Price |
| Northumberland Avenue | 160 pounds |
| Pall Mall | 140 pounds |
| Whitehall | 140 pounds |
US Standard Edition
| | |
| --- | --- |
| Property | Price |
| Virginia Avenue | $160 |
| States Avenue | $140 |
| St. Charles Place | $140 |
Monopoly City Edition
| | |
| --- | --- |
| Property | Price |
| Central Quay | M1.6m |
| Harbor Heights | M1.4m |
| Old Town | M1.4m |
Is Pink or Orange Better in Monopoly?
Orange is one of the best color properties to buy in Monopoly. Orange color properties have one of the highest landing probabilities on the board. At the same time, orange has one of the highest returns on Investment. Though Red is the best color set for buying properties on a Monopoly board, orange is no less.
Pink properties have an ROI of 2.62%. This is not very poor but is less when compared to Red, Orange, Yellow, or Green color properties.
The landing probability of players on Pink property is scanty. The properties of Pink and Orange properties are pretty similar for example, both of them can be true smack debs at the game beginning. Pink is a moderately profitable color set to acquire, but the overall advantages of acquiring pink properties are lesser than that of Orange properties.
To know more about Monopoly Strategies, you can check this post written by me.
Pink Monopoly Boutique Edition
In 2007, Hasbro released a Monopoly boutique edition. Since the game was based on a pink theme, it is often referred to as the Pink Monopoly or Monopoly Pink Edition. It was released exclusively in the United States for the holiday season.
During those years, multiple style cliches emerged in the fashion industry, such as associating pink with girls. Girls in those days were the largest consumers of pink-colored items, and the game was developed to target the feminine consumers of Monopoly games.
Each component of this game was pink, for example, the dice. To make it even more attractive, the game kit contained a keepsake box which was intended to be a jewelry storage box. Some modifications in the game were made to keep up with the theme.
In place of chance cards and community chest cards, instant and text message cards were provided. The houses and hotels were replaced with malls and boutiques.
The utilities were replaced with cell phone service providers. Numerous such changes were made in this edition to make it apt for the contemporary telecom changes at that time. These sales and marketing gigs contributed highly to the popularity of the Monopoly pink boutique version.
About the Pink Monopoly Boutique Edition
It was designed for players above 8. 2-6 players can play the game, and the average playing time for the Monopoly pink edition is 60 minutes. It was more popular among the girls. Little girls and teenagers were fascinated by this game. 
Pros of Monopoly Pink Edition
It was a fantastic marketing gig. Hasbro succeeded in its mission, and the target audience was pretty happy with the pink edition of Monopoly. Pink is a contemporary representation of femininity, and that Hasbro specially signed something unique for the females was an excellent sales pitch.
Parents bought these incredibly beautiful pink monopoly game sets for their daughters. The game was a hit, and there were skyrocketing sales. The minute details included, for example, the telecom components represented the popularization of telecom services back in 2007. The game was an overall hit.
Cons of Monopoly Pink Edition
There are no such disadvantages to the game. The only one is that – It is a fancy edition that needs care and maintenance. If not cleaned regularly, the components can get dirty, spoiling the game's look. 
We are sorry that this post was not useful for you!
Let us improve this post!
Tell us how we can improve this post?