Monopoly Plus is a very popular digital Monopoly game that is fun and enjoyable as the regular Monopoly Classic Board Game. 
If you are looking to know whether Monopoly Plus is Cross Platform, you will find in-depth about that.
Also, I will discuss how you can play Monopoly Cross-Platform with your friends.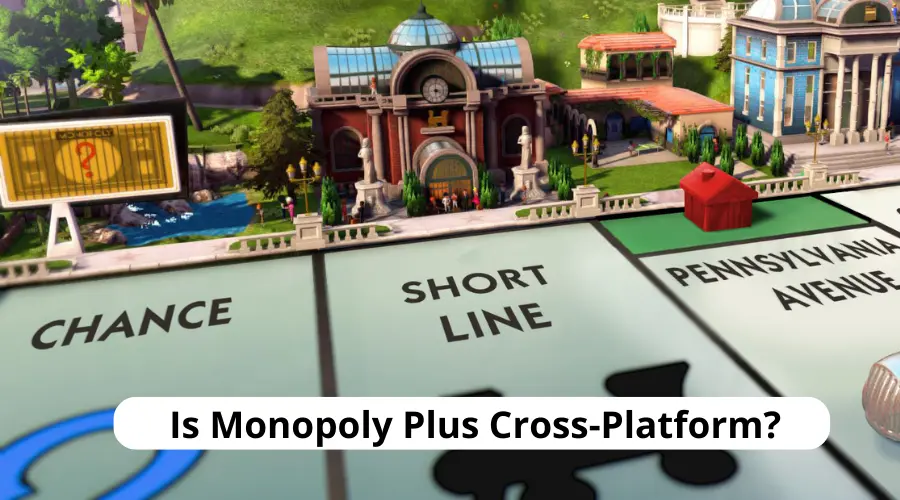 Let's get started!
Is Monopoly Plus Cross Platform?
Monopoly Plus is not cross-platform. You can't have a multiplayer game with people using different consoles or computers. Online multiplayer requires each participant to have an identical console.
You can only play the Monopoly online video game against others who have the same console as you since there are no plans to make Monopoly Plus cross-platform.
Suppose you want to play Monopoly online but don't want to depend on computer AI. In that case, it's a lot easier to do it today than it was even ten years ago. 
However, it would be more convenient if your buddies didn't need to synchronize their platform with yours.
The fact that the game's minimal specifications for a personal computer (PC) aren't very high-end isn't going to help matters because many commonplace laptops won't equal the task. 
Due to the extensive 3D animations in Monopoly Plus, a graphics card is required for effective operation.
Even though most individuals have access to a computer at home, you cannot just decide to download Monopoly Plus onto everyone's machines.
About Monopoly Plus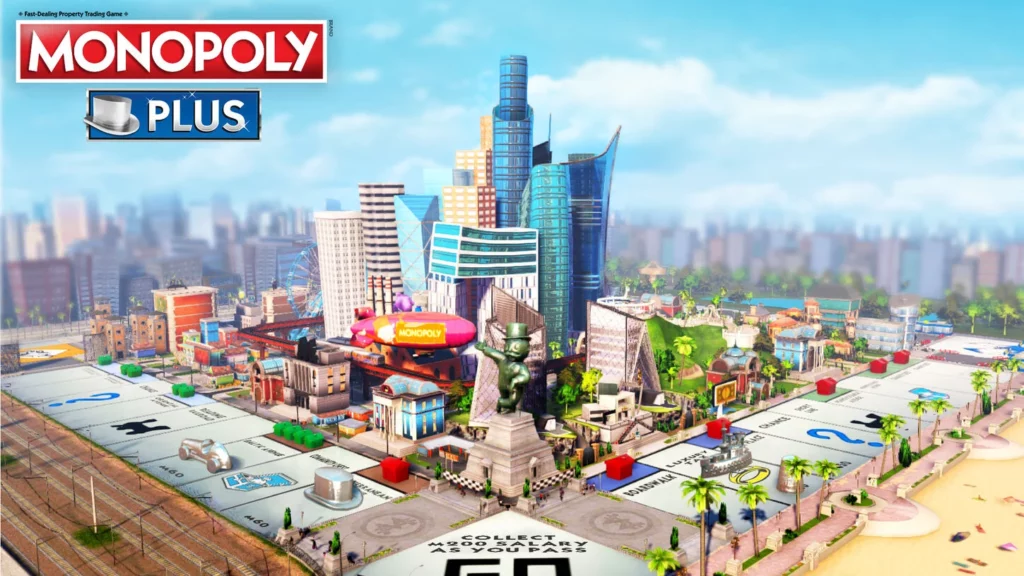 In Monopoly Plus, the city in the middle of the board comes to life and changes as the game progresses in complete 3D. 
You are the proud owner of a small universe where each community has its distinct personality.
Its welcoming locals will respond to your actions and successes in-game, enriching the whole experience. 
Experience the pride of ownership and see your empire expand before your own eyes.
The rules may be altered to suit your preferences as a player. 
Spice up your game with the iconic Speed Die option, or choose from a library of 6 house rules voted on by Monopoly players across the globe.
Links to Monopoly Plus Game:
How to play Monopoly Cross Platform?
Even though you can play Monopoly on two different platforms, you won't have complete freedom to do so.
These include the Monopoly mobile game and the Stadia version of Monopoly.
Using Monopoly Stadia
Those who enjoy Monopoly Plus will recognize many of the same elements in Monopoly Stadia. 
It's compatible with computers, the majority of current high-end smartphones, a small percentage of smart TVs, and Chromecast-enabled TVs.
A Stadia Pro subscription and a game copy are required for participation. Still, after that, anybody with an internet connection may participate in the fun. 
Those playing on mobile devices can take advantage of cross-play from almost anywhere.
Using Monopoly Mobile Game
You may also play the game on your mobile device. As long as your phone or tablet runs Android 6.0 and later or iOS 11.0, you'll be able to play this.
How To Play Monopoly on the TV with Friends?
Suppose you and your pals want to play Monopoly on a big screen without buying the same console or subscribing to Stadia. 
In that case, your best bet is to get an Android TV box (they're inexpensive) and install the mobile version of the game from the Google Play Store. 
Playing video games using a TV remote is neither pleasant nor easy, so you should acquire an Android box with Bluetooth and a games controller if you do this.
You may even play Monopoly on your TV by downloading the mobile app and casting it from your phone. 
You'll be able to use your phone to operate it but also enjoy it on a larger screen. 
Today's TVs may include built-in casting capabilities or support for external casting devices like Chromecast.
Does Monopoly support Cross Platform multiplayer?
Monopoly supports cross-platform multiplayer, but Monopoly Plus does not support cross-platform multiplayer. 
While it's playable on many different platforms, they're not compatible with one another.
Can you Play Monopoly Plus Cross Platform With a PC?
The PC version of Monopoly Plus does not support cross-platform play. If you possess a Windows computer, you may play a new version of Monopoly called Monopoly Plus (desktop or laptop). 
Online co-op gaming requires individual purchases and downloads of the game.
The PC version of Monopoly, Monopoly Plus, is fantastic since it has a 3D live board and several customizing choices. 
You may play the well-known Speed Die game to speed things up and adjust the rules to make the game more enjoyable. 
Although Monopoly Plus for PC costs money, more Monopoly games are available for no out-of-pocket expense. Multiplayer support is available in some of these titles.
Does Monopoly Plus support Cross-platform for PS4 and PS5?
Monopoly Plus is not compatible with the PS4 or PS5. Those who possess both a PS4 and a PS5 will be disappointed to learn that they can't play Monopoly Plus together. 
Up to six people may play Monopoly Plus online using a PlayStation 4 or PS5. Each of you will need to buy the game, and online play requires a PlayStation Plus subscription. 
PS4 is the best console to play Monopoly Plus on. You can play it on PS5, although it may lack certain features. 
Perhaps you need the newest version of the program or an operating system upgrade to make it function. 
Each player will require their console since Monopoly Plus does not support a hybrid local/online setup. It also does not work on any other platforms.
Does Monopoly Plus support Cross-platform for Xbox and Nintendo Switch?
The Nintendo Switch and Xbox One versions of Monopoly Plus are not compatible with each other. 
It eliminates the possibility of co-op play across Nintendo Switch and Xbox One versions of Monopoly Plus. 
The popular board game Monopoly has been adapted for the computer in the form of Monopoly Plus. 
The game may be played online on the Switch, Xbox One, PS4, PC, and Stadia.
The player must invest in properties that can be renovated into hotels or homes to see any financial return. 
To everyone's surprise, it's possible to use other players' money to place wagers, which significantly ups the stakes. 
If you play Monopoly Plus, among other things, you may go to prison, move across the globe, win or lose a fortune, and so on.
Other Monopoly Games and Their Cross Platform Support
Several games are comparable to Monopoly that you might enjoy in addition to the original. These ripoffs of Monopoly may be downloaded for free on mobile devices.
While there are many great Monopoly games available online, some of them will have you downloading them to your computer first. 
You can play Monopoly online without downloading anything if you're concerned about doing so.
1. Monopoly Mobile
Enjoy the original game's full version free of in-app purchases or intrusive advertisements. 
Take a chance and roll the dice if you want to be the board's most prosperous real estate mogul. New, mobile-only themed boards await the most successful landlords.
2. Monopoly Madness
Indeed, the new board game Monopoly Madness isn't exactly like the classic version. 
However, it still has some of the classic game's hallmarks, such as the need to acquire real estate and the competitive spirit of playing against others.
Frequently Asked Questions
Is Monopoly Plus cross-platform between Xbox and PC?
Monopoly Plus is not cross-platform between Xbox and PC.
Is Monopoly cross-platform Xbox and Switch?
No, the Monopoly Plus game is not cross-platform between Xbox and Nintendo Switch.
Can I play Monopoly Plus online with friends?
Yes, you can play Monopoly Plus online with friends. Monopoly Plus offers an online multiplayer mode where you can play with up to 6 players, either with friends or other players online.
Is Monopoly Plus online free?
No, Monopoly Plus is not free to play online. You need to purchase the game to play it online. However, some platforms may offer free trial periods or promotions from time to time.
Conclusion
Let's conclude the post on whether Monopoly Plus is Cross Platform Game!
As you learned here, Monopoly Plus cannot be directly played cross-platform multiplayer. But, there are ways using which you can play and you can play using that.
If you would like to play the Monopoly games offline, you can check the Monopoly Empire game and other versions of monopoly that are played offline.
I hope you enjoyed reading the post. If you liked this post, please do share!
Thanks for your feedback!