So you just had a child, and you're tired of having to throw away the dirty diapers. There is a better way.
You need a diaper pail, and Diaper Genie is one of them on the market.
This blog will look at all the features you get with Diaper Genie and why it's one of the most popular diaper pails around.
Diaper Genie is a baby hygiene product that helps keep your baby's nursery free from waste.
This blog will look at how this product works and its benefit to both dad and mom.
Let's get started!
What is a Diaper Genie?
Diaper Genie is a modern baby diaper disposal system comprising a large plastic container and a lid.
This John Hall creation seals diapers individually to protect you from odor and germs.
It consists of a pail with an odor-control lid that seals odor inside, a plastic liner bag, and a proprietary one-way valve that allows air to exit the container but does not allow odors to escape.
Diaper Genie has come a long way since Playtex first introduced it.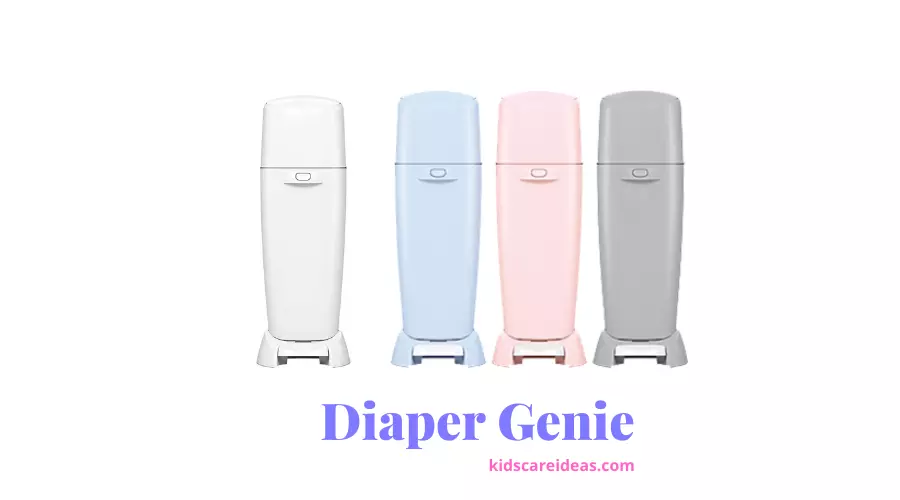 Diaper Genie is a pail-like system that is used for hygienically disposing of diapers.
This can be a big help in keeping your home clean and free of the smells that can come from diaper waste.
Diaper Genie is a good product in that it makes it easy to dispose of diapers in a hurry and in a way that keeps your home smelling fresh.
How Does a Diaper Genie Work?
The Diaper Genie is a user-friendly system that allows users to dump diapers securely.
It comes with a large plastic bin with a lid.
All you need is to dump the used diapers inside and close the bin.
Besides, the diaper genie is fitted with the lid opening and closing pedal that only requires you to step on it to open and then close when you release your foot.
When the lead closes, the diaper moves to the antechamber and then to the bottom of the diaper genie; the carbon filters consume odor before they are discharged when the lid opens.
When the diaper genie is full, open it, remove the bag with the inbuilt cutter, and bind it for subsequent disposal.
What Is the Point of Having a Diaper Genie?
Well, there are lots of reasons to want to use this product. Diaper Genie is a trusted name in the world of baby diapers and waste disposal.
Diaper Genie is one of the most preferred brands parents turn to when shopping for a diaper disposal system. 
The diaper genie offers convenience, reliability, and hygiene in equal measure.
The system controls bad smells from used diapers and smoothens the disposal of the diapers. It will help you keep your baby's room clean and free of odors that are essential to have.
It is hand-free, meaning you can operate the system while holding the baby.
Just step on the pedal, drop the used diapers, and you are good to go.
The diaper genie is also very affordable and comes with all the needed accessories.
Is Diaper Genie Worth It?
It is a great product that can help parents in many ways. It is a much better alternative to the traditional, open diaper pail. With that, it has worked to provide parents with a simple and easy way to dispose of used diapers. 
A diaper genie guarantees value to your money.
The diaper genie system is made to serve you for many years to come.
It brings reliability, durability, and convenience to the diaper disposal process.
t also comes with a variety of smooth neutral colors designed to match the baby nursery Décor.
If you are not satisfied with the regular trash bins, you can go for a diaper pail.
The Diaper Genie diaper disposal system is available in various sizes and colors.
The Diaper Genie diaper disposal system is made up of a plastic lid and a spring-loaded trap door. To know more about are diaper pails worth it, here is an article where you would get more information.
How Many Types of Diaper Genie Are There?
There are several types of diaper genies, including:
Playtex® Diaper Genie® Complete: Diaper Genie Complete gives maximum odor control with double carbon air filters. It has a foot pedal, thus hand-free.
Playtex® Diaper Genie® Expressions: can be designed to match your nursery décor and easily control odor with inbuilt seven layers that prevent germs. It holds up to 50 used diapers.
Playtex® Diaper Genie® Quick Caddy: This can contain up to 10 diapers daily and has a smaller portable pail that is convenient everywhere you go. It contains a long-lasting structure and a seven-layer odor lock that keeps it odor-free.
Playtex® Diaper Genie® Elite: This has a powerful odor locking system made out of a Carbon Filter to keep your laundry room smelling fresh every time you visit.
Playtex® Diaper Genie® Portable Bag Dispenser: It is a portable solution for diaper disposal, which you can carry with you where ever you go. It is easy to carry and convenient.
Other products from Diaper Genie that can be used as an accessory with your diaper genie diaper pail:
Playtex® Diaper Genie® Refills: guards the nursery against bad smell, and keeps off germs from accumulating in the bags.
These refills are made from Recyclable material and hence are great though they are made of plastic.
Playtex® Diaper Genie® Clean Laundry Scent Refills: It has a seven-layer film with an anti-microorganism that prevents bacteria from growing in the film.
How Many Diapers Can a Diaper Genie Hold?
A diaper genie can hold up to a maximum of 270 used diapers; when full, you can cut it off with the inbuilt cutter to create the next refill space by pulling out and fastening a knot at the bottom of the next refill bag.
Are Diaper Genies Universal for Diaper Genies?
Yes, the refill bags are designed to fit correctly into the pails.
You can always buy the diaper genie refill bags when you run out of them.
You can easily find them in the local store or online store, and the diaper genie liners would universally fit all types of diaper genies.
The refill bags are essential for keeping fresh air in the infant's nursery.
How Long Will Diaper Genie Refill Last?
A diaper genie refill takes about 270 diapers and can last up to a month.
However, the reloading rate depends on how often you change the baby diaper and wrap them for disposal.
How long do Diaper Genie filters last?
Diaper Genies have a Carbon Filter that keeps out the odor and keeps the room smelling fresh.
Each Diaper Genie Filter lasts for about 30 days, on which they need to be replaced with another one.
Do Diaper Genies Need Batteries?
Diaper Genies do not need batteries. It opens its container by pushing the pedal below with your foot manually.
Conclusion
Let's conclude the post on the Diaper Genie. 
You may be surprised by the number of people who still use Diaper Genie.
While it certainly isn't the most high-tech piece of equipment you can use to clean your baby's dirty diapers, it can be very helpful!
Many people who use this product report that it's easy to use and is useful for disposing of diapers quickly.
Not only that, but it has a simple design which makes it easy to clean.
I hope you enjoyed reading the post.
Thanks for your feedback!