Changing baby diapers frequently can be complicated, and a better way of disposal is a need for moms.
If you still think the diaper pails are necessary or worth it, then this is the right post.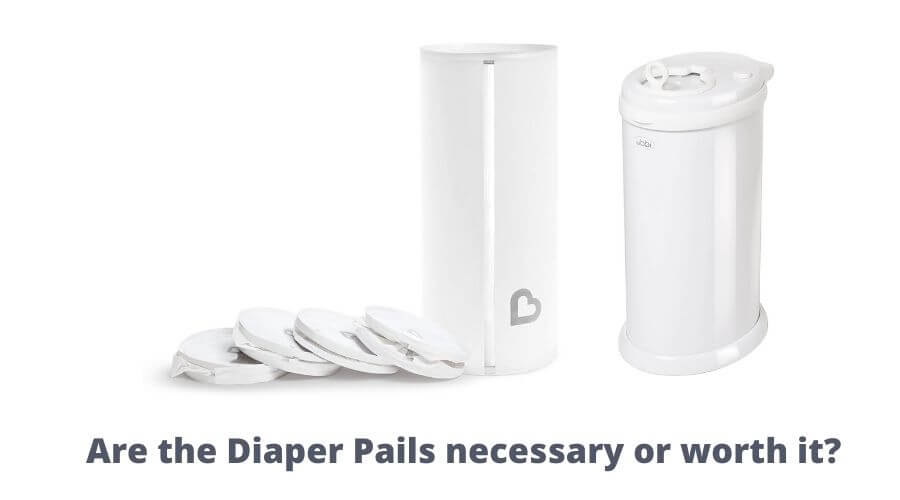 Let's get started!
What are Diaper Pails?
Diaper Pails are specialized disposable bins to dispose of baby diapers.
They have a lid on the top, a liner inside, and a lock outside to protect them from getting opened.
Diaper pails also have an odor lock to protect them from diaper odor as you would accumulate many diapers there and dispose of them once at a time.
Are diaper pails necessary?
Diaper pails are handy and easy to use for storing soiled diapers before disposing of them.
Diaper pails help keep many diapers together and save you from the headache of frequent disposal of diapers.
Diaper pails are necessary if you want to manage your baby's diapers easily and without worry.
Reasons to consider diaper pails
Here are several reasons to consider diaper pails:
Odor lock: Diaper pails come with odor lock technology that locks the odor of diapers into them.
Also, they have a pleasing fragrance that comes out of the pail.
Easy to manage many diapers: A diaper pail keeps a lot of diapers in the stack. So, it is excellent to manage a lot of diapers to dispose of at once.
Easy to dispose of: Diaper Pails have a liner that helps dispose of diapers very quickly. Once the diaper pail is filled with the soiled diapers, you need to take out the diaper pail liner, like a bag inside the diaper pail. You can dispose of the pail liner and refill a new liner into the diaper pail.
Downsides of Diaper Pails
Here are some of the downsides of diaper pails:
Expensive Cost: A diaper pail is costly and adds a cost to managing the soiled diapers.
The pail would add a cost but has great benefits to consider to choosing it.
Liners are a Recurring Cost: Diaper Pails have a liner in them that are disposable. So, it will add a small recurring cost.
Are the Diaper Pails worth it?
Diaper pails are expensive compared to trash cans or bins. They are specially made to store and dispose of diapers with ease.
If you consider the convenience it provides, the diaper pails are worth the money.
Diaper pails are an excellent investment for the upcoming years.
Last update on 2023-03-21 / Affiliate links / Images from Amazon Product Advertising API
Diaper Pail Alternatives
Diaper pails can have several alternatives. One can be a trash bag. You can dump the diapers into the trash can and dispose of them. 
Also, you can use a trash can or a trash bin, which is a container-like shape to store trash.
You can dispose of diapers here in the trash bin.
Last update on 2023-03-21 / Affiliate links / Images from Amazon Product Advertising API
Conclusion
Let's conclude the post! 
Diaper pails are commonly used nowadays due to their many benefits for managing soiled diapers efficiently.
We are sorry that this post was not useful for you!
Let us improve this post!
Tell us how we can improve this post?