There are a lot of play sand like kinetic sand and also from other different brands. However, as it is a kid's toy and taken as a mold to play with, we need to know the gluten content in them.
Here, I have done in-depth research on the ingredients of popular play sand and play dough like Kinetic sand, Crayola Play Dough, Moon Dough, Slimy Sand, and Slimygloop Slimy Sand to find out whether they are gluten-free or they have gluten in them.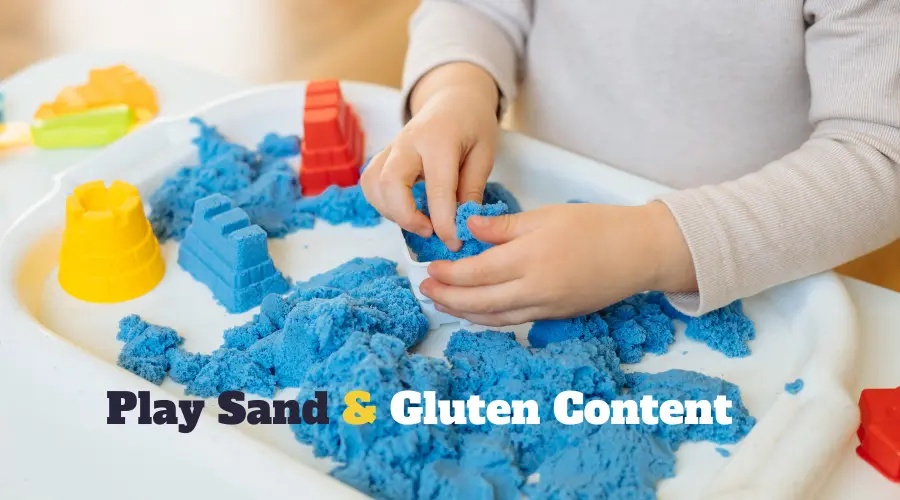 This would be a help for those kids who are gluten intolerant and need to eat only Gluten-Free food.
Let's get started!
Is Kinetic Sand Gluten Free?
Yes. Kinetic sand is gluten-free. It does not contain gluten. Kinetic sand is also best for kids' games because it is almost free of noxious materials like casein, nut, and wheat residues.
Kinetic sand has been immensely popular with kids for a few years because it has plenty of advantages. Kinetic sand or magic sand is non-messy and does not stink.
Is Kinetic sand Wheat Free?
Kinetic Sand does not contain wheat in them. It has only sand and polydimethylsiloxane in its composition.
Whether you check the Readymade Kinetic Sand or DIY Kinetic sand you won't find wheat present in any one of them.
The one you would find wheat or other type of flour in it is the Playdough.
What are the Ingredients in Kinetic Sand?
The readymade kinetic sand is a mixture of fine sand and polydimethylsiloxane.
The other name for the compound is dimethicone. The most interesting part about this material is that – it has a high viscosity and increases proportionately with stress applied.
This property makes the kinetic sand amazingly relaxing to handle and play with. Kids love that they can do whatever they like with this sand.
It is just the best fun thing to play with. The consistency of kinetic sand allows kids to cut and chop them into various shapes and forms and even slice them.
For making homemade kinetic sand, the usual composition should be three parts cornstarch and five parts of sand mixed.
With these dry ingredients, 1 amount of the oil should be mixed to prepare the right kinetic sand at home.
Is Crayola Play Dough Gluten Free?
No. Crayola Dough is not gluten-free. Even the associated products like Easy peel crayon pencils are also not gluten-free. Each of these is made up of wheat flour as an active ingredient and contains a whole load of gluten.
Not all Crayola products contain gluten. Some of them, like the silly putty, do not contain gluten. 
Crayola Play Dough Ingredients
The brand does not reveal the real ingredients of Crayola clay. The only information they have revealed is that wheat flour is the main ingredient of Crayola dough.
It is totally non-toxic and contains some secret ingredients that are totally safeguarded and best for use by children.
The Crayola Play Dough is prepared under stringent conditions, so it won't hurt their health even if the kids come in regular contact with the clay. You should be cautious that your kids should never ingest Crayola Dough because they never reveal the ingredient list. 
Is Slimy Sand Gluten-Free?
Yes. Slimy sand is gluten-free. There are no races of gluten in slimy sand. The ingredients for slimy sand do not contain any wheat or gluten-containing material.
It is totally non-toxic. Kids allergic to gluten can also try Slimy sand because they are totally free of toxins. Kids and others can have a great time trying out their creativity with Slimy sand. 
Slimy Sand Ingredients
Slimy sand is made of Glue, Liquid Starch, Cream, and Sand. Food colors or dyes can be used for the sand to make it even more colorful and attractive.
Even when preparing slimy sand at home, the same ingredients are used in the correct proportion, and the right methodology would lead to the same results. Sensory toys are made of slimy sand, and they are totally perfect to be used by kids. 
Is Moon Dough Gluten Free?
Moon Dough is Gluten free. Moon Dust is also dust-free and non-toxic. Moondust has been specially curated as allergen-free.
Not only gluten, but it is also devoid of almost all other types of allergens and is best for kids to play with and make toys and other craft items.  
Moon Dough Ingredients
Some variants of moon dough contain gluten. However, most of the variants are gluten-free. It is made of cornstarch and baking soda. Oil and food color mixed in the right proportions.
When preparing moon dough at home, one can use wheat flour if the kids are not allergic to gluten. 
Is Slimygloop slimy sand Gluten Free?
Both slimy gloop and slimy sand are gluten-free. Slimy gloop and sand are one of the best gluten-free alternatives to Pay Dpugh for kids. It is especially perfect for those kids who love to explore new things and prepare DIY craft items but are allergic to chemicals and gluten.
Slimy gloop is an innovative material that can help your kid be a genius art maker without being inflicted with any kind 
Slimygloop Slimy Sand Ingredients
Slimy gloop and slimy sand are mixtures of cornstarch and water. It is a very basic and plain dough for kids to play with. It is easily moldable, and children enjoy making innovative art and crafts.
They promote flexible sensory activities among children and boost their sensory growth. You can trust these products when giving them to your kids because they are toxin free and non-allergenic. To make them attractive, colors can be added. 
Is Slime Gluten Free?
No. Slime is synthetically manufactured and does not contain gluten. The major ingredients of slime do not contain gluten. So the kit is gluten-free.
Kids across the globe use slime to enhance their creativity and add beauty to their sensory creations. 
Slime Ingredients
The primary ingredients of Slime are polystyrene, polypropylene, glycerol, tombarthite, edible pigment, and polyvinyl alcohol.
None of these ingredients chemically contain gluten. However, some of them may have traces. So, it is best advised to check the pack composition before you can safely hand it over to your kids.
Some slimes are labeled to contain gluten and can be toxic for kids who are allergic to gluten. 
Conclusion
Let's conclude the post on whether Kinetic sand is Gluten Free!
After reading these you must have already got a good idea about the gluten content in these play sands. If you need alternatives, you will find several DIY to make play sand without gluten.
I hope you liked reading the post.
Thanks for your feedback!