UNO is enjoyed mostly playing offline as a card game, however, there are great versions of the game available to be played Online too.
In this blog, I will guide you through the entire process of playing UNO online with your friends and family.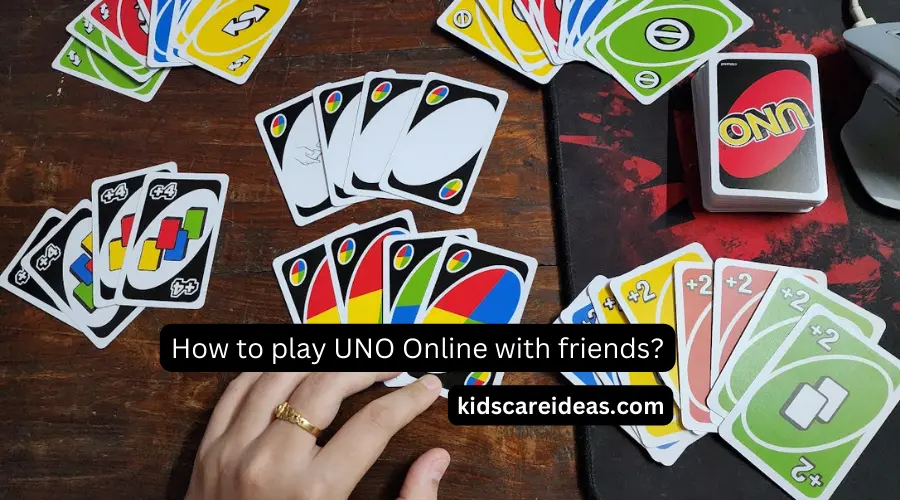 Let's get started!
Can we play UNO online with friends?
Uno is a great game that is fun to play with friends. It is one of the best card games to play. If you are not in a place to physically play the game with your friends, you can play Uno online with friends.
Requirements to play UNO online with friends
Internet connection
You need a stable and robust internet connection to help you play Uno online with friends. Mobile or cellular data is often not enough to support the game. Wi-Fi is the best for playing Uno online. All the players must have a strong internet connection and not one. 
Smart devices or personal computer
Uno online can be played on mobile smartphones and personal computers. The screen size of personal computers and laptops makes it easier to play the game. In one game round, some players may participate through mobile phones and some through a personal computer. The game streaks and playing becomes more straightforward and better with personal computers. 
UNO online game app or website
Uno online is the official website that lets you play the popular card game free on any browser. The application Google Meet also allows the attendees of the Uno to participate in a meeting and play the game.
Mattel has announced that Uno can now be online for free through any browser or the official app launched by the company. The Uno app from Mattel is one of the various ways players can engage in games with their friends. 
Knowledge of UNO game rules
The Uno game rules remain the same for the online and offline versions. You must have a critical understanding of the game rules, as in the case of the offline version. The rules don't change, but how they apply in the game may vary. Before involving in the game, all the payers should be well aware of how to deal with the different rules of the game.
How to Play UNO Online with Friends?
There are two approaches to playing Uno online. The first is to use the official Uno app introduced by Mattel. You can also use various multi-player Uno websites to enjoy Uno with your friends virtually, even when apart.
The websites are a unique way to play the game because you can take help from the inherently available AI players or AI assistants. The players have to log in with their names and credentials and be set to enjoy their favorite game.
The internet connection has to be very strong to enjoy the game. You can even choose from the various game speeds depending on the expertise of your team members. Several websites offer free gameplay. 
You must register for a free account to enjoy the free Uno games. You can also play as guests on these websites. It is almost similar to playing other online games. You have weekly leader brads and several streaks to pursue.
It makes the game more exciting. The rules remain almost the same. You can also choose to play the game against the AI players.
The online version of Uno – apps, and websites have increased the game's popularity like none other.
UNO Multiplayer Games For Free
UNO Online By CrazyGames 
Uno Online, through crazy games, is one of the most popular platforms to enjoy the game. You can play it for free through your regular browser.
Just like offline Uno games, the primary game objective is to be the first player without any remaining cards. When you choose the multi-player version, you can play with 2,3,4 players simultaneously. 
Link to the Game: UNO Online By CrazyGames
PizzUno Game
Pizzuno is a great platform to play Uno online with friends for free. The only disadvantage of using this platform is that only three players can play this game.
You can play against the AI players, but when playing with your group, the maximum number of players is 3.
So, it is a bit inconvenient if you have a large group. There is an Uno room in the Pizzuno game where you can play the game. 
Link to the Game: PizzUno
Uno Online By Solitaire Paradise
Solitaire Paradise is another highly popular platform for playing the Uno game online. It can be played on all modern browsers and all operating systems like Windows, Android, iOS, etc.
Players prefer the Solitaire Paradise platform because you can use this platform for playing Uno on all devices – laptop, desktop, and mobile.
The quality of the game remains the same for almost all platforms. So, if you have a mobile phone to play on – Solitaire Paradise is ideal. 
Link to the Game: UNO Online By Solitaire Paradise Game
Play Online With Friends Using The Official UNO Apps
UNO game App For Android and iOS
Mattel has launched the official application for Uno players. You can download the app from Google Play Store for the android phone and from the Apple store. The official app allows you to form two teams and play the game as you wish.
Uno is a family-friendly game and plays with your partners to make the game more exciting and fun. Playing the game on the official app is beneficial because it is not prone to fluctuations, as in the case of gaming browsers or websites.
Link to Apple Appstore: UNO Game iOS
Link to Google Play Store: UNO Game Android
UNO for Nintendo Switch
It is a console game. Your favorite game is now on the gaming console and is loaded with loads of new and exciting features. The classic play of Uno is the most popular on this platform. The best part about this platform is that you can customize the game.
This is absent on most other platforms. It is a great way to make the game even more exciting for friends. The house rules are customizable on Nintendo Switch. Give it a try if your friends are bored with the usual gameplay. 
Link to UNO for Nintendo Switch
UNO for Windows
Uno is free on windows. You can play the official Uno game for free on Windows. Use the Windows operating system to play Uno for free on your desktop or the gaming console.
Match the cards and follow the house rules just as you do while playing them physically. It is plain and simple. Windows is the most reliable operating system that supports the gameplay of Uno. It is ideal even for the enjoyable multi-player sessions of Uno. 
Link: From SteamStore | From EpicGames Store | From UBI Game Store
UNO for XBOX/PS4/PS5
Uno is one of the most popular games that are now available on all gaming platforms, including the Xbox and Ps4 or PS5. Gaming rules remain the same. You can customize the rules on some media to make it even more exciting. 
Link from PlayStation Store to get the UNO Game. | from Xbox Store
Not only these platforms, but if you would like to play on iMessage, it's possible. Learn here how to play UNO on iMessage from this guide written by me.
Hosting UNO Virtual Game Online Using Streaming Services (WebEx, Hangout, Google Meet, Zoom, etc.)
Just because you are not together with your friends does not mean you cannot play together with them. You can always use the Uno virtual game platform through an app or website to play the game with your friends.
Google Meet, Zoom, and WebEx are popular virtual meet platforms that can be ideally used for playing Uno online. They are supported on most operating systems and devices.
To host the game, you need to select a dealer who will assign the cards and keep track of the game just as it happens in the game.
Now, the players will communicate through the camera and microphones while the dealer keeps track.
It is an extremely fun way to play the game and stay connected with your friends even when not with them.
Benefits of playing UNO with friends online
Uno is a great way to have fun with your friends. Even when not together, try out the Mattel official app or website to play Uno with friends. Distance and location can no longer be a restraint. Play Uno whenever and wherever you want with your friends. 
Tips to Make the Online UNO Game More Fun
You can make the game more enjoyable and competitive through various tricks and hacks. For example, communicating with your friends can help you keep a check on their moves and understand where the game is heading.
It is easier in offline games, but with proper communication, you can achieve the same in online games. The other strategy is not to use wild or cation cards at the beginning. 
Let the game gain momentum, and only use your wild cards. Remember, they are like your trump cards – only the most challenging situation demands them – when you cannot make any other moves. Use the numbered cards wisely because they are your ultimate game winners.
When playing it online, another pro tip will be to learn the game controls wisely. If you are playing a browser-based game, most of the control would be using your mouse.
To make the game more exciting, use gaming consoles to play Uno. Use the camera and microphone to communicate with your friends. Talk with them, discuss with them the moves.
FAQs
How do I add friends on UNO online?
When playing Uno across the official website or app, you must click on the "social" option on the right side of the screen. You can easily add your friends and gaming partner to the game by choosing their IDs. You can click on the "Find" tab to search for your friends. 
How many players can play UNO online?
For most platforms, the maximum number of players who can play Uno together is 4. You can have a combination of 2,3,4 players at a go. You can also play with AI players. Check out the popular websites and platforms for Uno online to learn more about how many players can play together on their platforms. 
Do the Rules remain the Same in the case of Online UNO as per the Regular UNO Game?
Yes. The Uno rules remain the same for both online and offline versions. You don't have to learn new rule sets for playing Uno online. Whatever rules were applicable for the physical card game applied to the online version. 
Conclusion
Let's conclude the post on How to Play UNO Online with Friends!
So, dear friend, did you find this guide helpful in bringing some UNO fun into your virtual hangouts? I sure hope so!
With all the tips and tricks shared here, you should be able to organize a smooth UNO session with your squad, even if you're miles apart.
Just remember to pick a reliable online platform, set up the rules beforehand, and maybe grab a snack or two for some extra enjoyment.
As you keep playing, don't hesitate to experiment with different variations or create your own new rules for an even more exciting game. The possibilities are endless! And if you have any questions or feedback, feel free to reach out to me.
I'm always happy to hear from fellow UNO enthusiasts and help in any way I can. Until next time, keep the UNO spirit alive and enjoy your games with friends!
I hope you enjoyed reading the post and found it helpful.
Thanks for your feedback!