If you're an Uno fan, you'll be excited to know that you can now play Uno on your iPhone with your friends on iMessage! Whether you're looking to spend some time, bond with friends and family, or just enjoy the classic card game, playing Uno on iMessage is a great way to do it. 
In this guide, we'll take you through everything you need to know to play Uno on iMessage and have a great time doing it.
Let's get started!
What You Need
Before we dive into the specifics of how to play Uno on iMessage, it's important to make sure that you have everything you need. Here's a quick rundown of what you'll need to get started:
An iPhone/iPad with iMessage capabilities
The GamePigeon App(This is free) or The Crazy Eight app for iMessage (It Is a paid game. There is no free UNO App on iMessage)
Friends to play with (You can invite your friends to play. They should have iMessage and Crazy Eight App installed).
Knowing the Official UNO Rules to play the game.
Note: There is a Free Official UNO App that you can use to play multiplayer on iOS. You can also send friend requests and play multiplayer with your friend. Even you can use this to play cross-platform with your friends using Android devices.
How to Play Uno on iMessage?
In iMessage, UNO official game is not there, you get the Crazy Eight for iMessage App(Requires iOS/iPadOS 10.0 or later) instead which is similar to the UNO game. However, this one is paid app.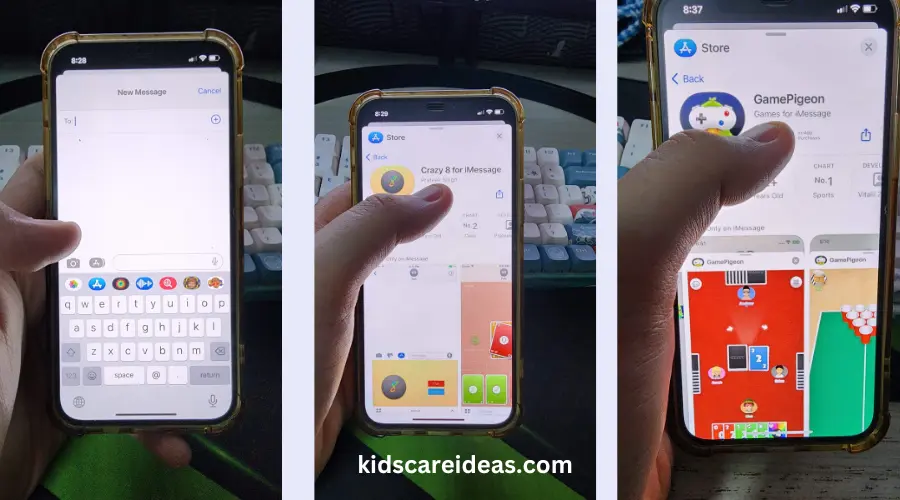 There is a Free Version to Play the game. It's using GamePigeon App you can play Crazy 8 Similar to UNO on iMessage.
Here are the steps to play UNO on iMessage:
Open iMessage on your iPhone/iPad,
Click Create new Message,
Click the App Store Icon and Install the Application(Crazy Eight for iMessage/GamePigeon App) if you have not yet done. If you already have this installed, go to the next step,
Add your friends to the GamePigeon App/Crazy Eight Game and start playing multiplayer inside the iMessage.
If you are playing GamePigeon App, you need to select the Crazy 8 Game in it as it is a app with multiple games together.
How to Play UNO Multiplayer on iOS using Official UNO App?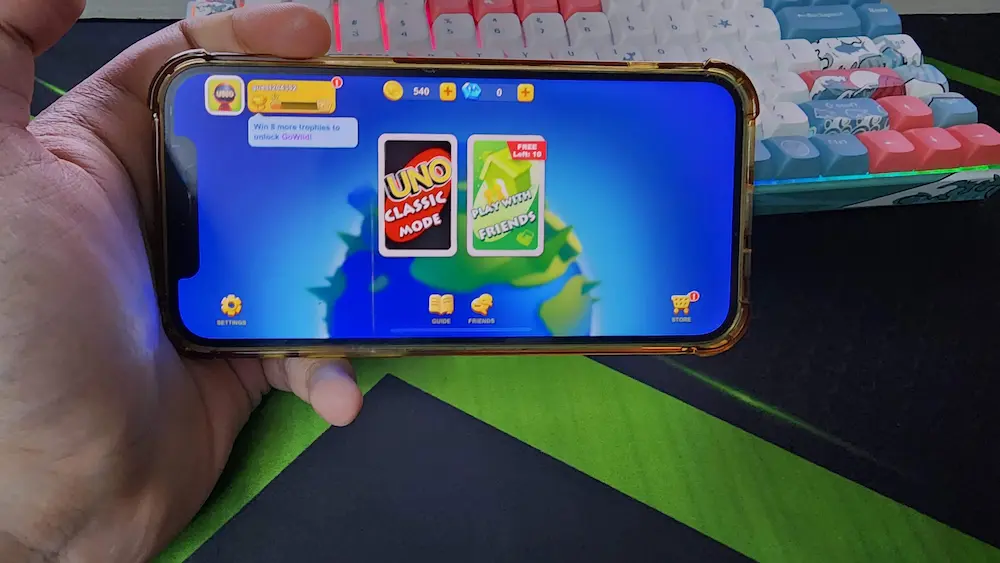 To play Multiplayer using the UNO iOS app, follow the steps below:
Get the App from the App Store: It's free to get from the official iOS store.
Sign in and create your own profile.
Next, either you can play UNO Classic Mode or Play with friends
Click on Play with friends and input Room Id if your friend has already created a Game room. Otherwise, you can create a Room and send an invite to your friend to join the game.
Next, start playing the game.
To connect with your friends, you can go to the Friends tab at the bottom. You can connect your Facebook to get your friends directly from your Facebook who already plays using UNO App from either the Android/iOS platform.
Also, you can click Invite Friends, and you then get a link to share. Then once your friend accepts the request, they get added to your friend list. You can add up to 100 friends in the UNO app to play the game.
Link To Official UNO App:
UNO App Android (from Google Play Store)
UNO App iOS (From Apple iOS AppStore)
Frequently Asked Questions
Q: Can I play Uno on iMessage with people who don't have an iPhone or iPad?
A: Unfortunately, no. Uno on iMessage is only available for iPhone and iPad users.
Q: Is Uno on iMessage free to play?
A: No, Uno on iMessage is named "Crazy Eight for iMessage" which is a paid game.
Conclusion
Let's conclude the post on how to play UNO on iMessage!
iMessage is a great way to enjoy this classic game with friends and family, no matter where you are. With just a few taps on your iPhone or iPad, you can start playing Uno. 
By following the steps I have outlined in this guide, you will be sure to have a smooth and enjoyable experience. So what are you waiting for? Start a game of Uno on iMessage today!
I hope you enjoyed reading this post and found this helpful!
Thanks for your feedback!