UNO is a very popular card game played worldwide. I play this game whenever I get together with my family members on vacation or on holidays.
In this post, I will discuss about who owns UNO, its history, and more details on it.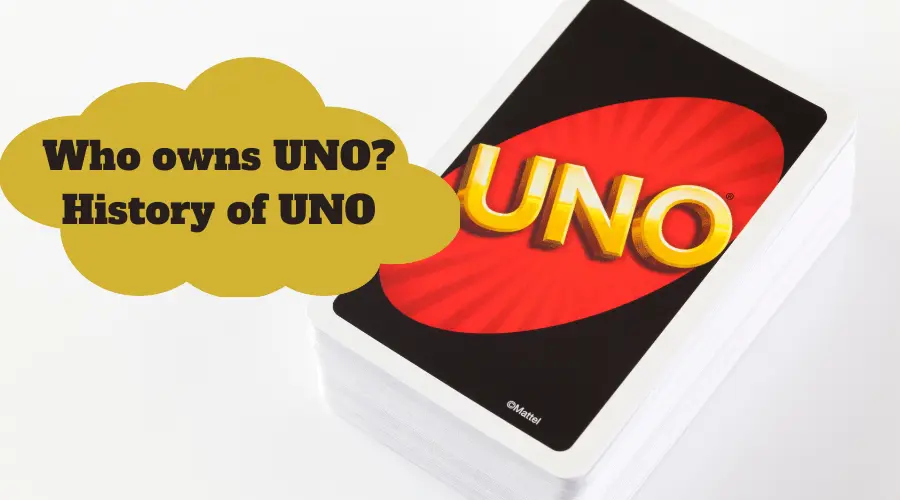 Let's get started!
Who owns UNO?
Mattel Inc is the owner of UNO. UNO is an American card game played with a specially printed deck. 
Who invented UNO?
Merle Robbins invented UNO in 1971. He was a barber in Ohio, USA. He was a card lover and often played with his family.
Where did UNO originate from?
UNO originated from Ohio, USA. 
History of UNO
In 1971, two sons of Merle Robbins got embroiled in a quarrel over the card game Crazy Eights. The topic of their argument was the official rules of the game. Their Father took the matter into his hand and formed a new game called UNO. It is an Italian word meaning "one."
The objective of the game is to be the first player to get rid of all the cards. If a player has only one card in hand, they can say UNO to show other players that they have only one card left. 
Soon, the game became a favorite in the Robbins household. Merle could fathom the commercial potential of the game. Thus, he and his wife Marie saved money for the professional design of the cards.
They were so convinced that the game would succeed in the market that they sold their house as an investment to create the first 5,000 cards. They also received some money from their son Ray. With $8,000 in their pocket, they produced 5,000 cards.
The next step was selling. Merle started selling UNO cards from his barber shop. His sons sold the pack of cards to students. Finally, both Merle and Marie sold the game to whoever was interested. Gradually, the game became popular. 
After selling the first 5,000 copies in Ohio, Florida, and Texas, they placed a new order for 10,000 copies of the game. This time, they approached the retail stores to sell the copies. Initially, small retail stores stocked UNO, but given the popularity of the game, big retailers could not help but stock their shelves with UNO copies. 
In 1972, Merle sold the rights of UNO to a group of three UNO appreciators, Robert Tezak, and his two partners, who went on to establish International Games Inc.
This new company bought UNO to sell worldwide. The company promised 10 cents royalty for every UNO copy sold and paid $50,000 for the rights. In 1992, Mattel Inc bought the game from Robert Tezak.
Read more about UNO's history in this post written by me.
Different UNO varieties
Surprisingly, UNO has over 500 types of games. Additionally, Mattel releases 15–30 new games and spinoffs each year. 
Does Ubisoft own Uno?
No, Ubisoft does not own UNO. It has merely collaborated with Mattel Inc to introduce the digital version of the game.
Is Uno an American game?
Yes, UNO is an American card game. 
Thanks for your feedback!