If you have come across Honest diapers, you may have already thought about who owns Honest. In fact, Actress Jessica Alba is the founder of this company.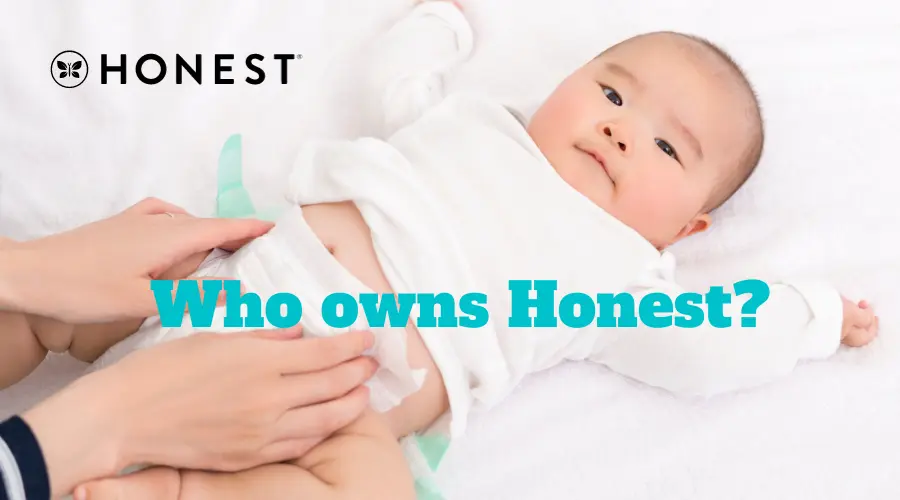 Let's get started!
Who owns Honest?
Actress Jessica Alba founded the start-up venture Honest Company with three other co-founders, Brian Lee, Sean Kane, and Christopher Gavigan. 
Why did Jessica Alba start The Honest Company?
Jessica Alba's experience with a detergent caused her to break out of an ugly red welt. It was her baby shower in 2008. 
After the event, she washed a few gifts she received at her baby shower with a detergent and experienced an outbreak of unsightly red bumps. 
She became scared that if an ordinary laundry detergent could harm her skin, what could they do to the baby's sensitive skin? 
Inspired by this incident, Jessica decided to begin a start-up for harmful chemical-free baby products.  
History of The Honest Company
After that dreadful incident, Jessica became curious to know what ingredients are used in consumer goods markets. 
Unfortunately, the research result was alarming. She found that most consumer goods use ingredients, including petrochemicals, formaldehyde, and flame retardants, which are toxic. 
A woke Jessica began a campaign in Washington, DC, for updated legislation to reform the 1976 Toxic Substances Control Act. 
She was successful in making some changes in the industry. Enthused by her success, she decided to start her start-up venture. 
However, it took her three years to find a business partner Brian Lee, who came with start-up experience with ShoeDazzle.com and LegalZoom. 
They invested $6 million from their personal wealth to initiate the venture. Gradually, venture capitalists invested in the company, which was incorporated in 2011.
Sean Kane and Christopher Gavigan joined the venture later.
It was a wise decision because they had experience in baby product lines. The co-founders complimented each other's expertise, and Jessia brought in the audience and the appeal.  
Despite the skills and expertise of the co-founders and Jessica's star power, the company needed investment. 
They were eyeing the venture capitalists. To convince them, the company focused on baby diapers and decided to make safe, chemical-free, and nontoxic diapers. 
They also formulated their pitch around the diaper business. The strategy worked.
It lured venture capitalists and, along with them, brought about $27 million in investments in 2012. 
Some venture capitalists who poured money into the business were General Catalyst, Institutional Venture, and Lightspeed Venture. 
With the success of the diaper business, the start-up raised around $128 million in 2014. 
After establishing itself as one product, the company expanded its product ranges. They produced soaps, detergents, nipple balms, kitchen cleaners, and nursery furniture.  
What percentage of Honest does Jessica Alba own?
Jessica Alba is a significant shareholder in the company. As per the regulatory filings, she holds over 5.6 million shares of The Honest Company, which amounts to around $130 million.
In terms of percentage, Jessica Alba owns 6.7% of the Honest company's total share.  
Where are honest diapers made?
Although The Honest Company is an American venture, the diapers it sells are not made domestically. Instead, they are made in Mexico. 
Are honest products made in the USA?
No, Honest products are not made in the USA. Instead, they outsource the manufacturing of these products to minimize the cost.
For example, Honest wipes are made in China. So are the diaper caddies and dish towels.  
Are Honest Diapers Good?
Over the years, Honest diapers have received good reviews from parents and users. They find these diapers not only good but also safe and reliable.
Some features, such as the use of plant-based materials, non-toxicity, and eco-friendliness, are highly appreciated by the users. These diapers are famous for being soft and absorbent. They do not give rashes to babies. 
Do Johnson and Johnson own Honest Company?
The answer to this question is a clear No. Johnson and Johnson does not own Honest Company.
Is Jessica Alba CEO of Honest?
No, Jessica Alba is not the CEO of The Honest Company. She is the chief creative officer of the company. Its CEO is Nick Vlahos. 
Does Jessica Alba still own The Honest Company?
Yes, Jessica Alba still owns The Honest Company as a significant shareholder. 
Conclusion
Let's conclude the post on who owns Honest diapers!
I hope you enjoyed reading the post.
References: 
Thanks for your feedback!