Planning to say goodbye to disposable diapers? Cloth diapers can be a great alternative, but you must know how to use them.
Many parents want to say a big No to disposable diapers for various reasons. But they need to figure out types of cloth diapers and their usage patterns too before switching from disposable diapers.
Let's have a close look at the different types and learn more about their pros and cons in detail.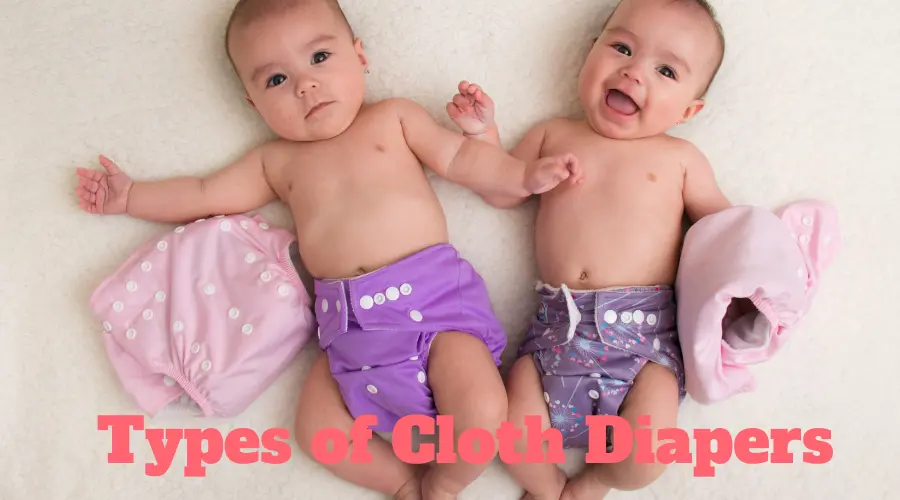 Here are the Different Cloth Diaper Types:
All-in-One (AIO) Cloth Diapers
All-in-Two Cloth Diapers
Pocket Cloth Diapers
Flats Cloth Diapers 
Pre-fold Cloth Diapers
Fitted Cloth Diapers
All-in-One (AIO) Cloth Diapers
As the name suggests, this is an all-purpose cloth diaper that is well-suited for high-end absorption and provides a top waterproof layer. So, unlike other types of cloth diapers, there is no need to use any diaper cover. At the same time, the baby can enjoy the high absorbance of the cloth diaper.
Pros
They are easy to use and a one-stop solution for diaper needs
No need to add any extra absorbent layers 
Cleaning them is pretty easy because you can simply dump the dirty diaper at once
Cons
They are more expensive than other popular types of cloth diapers
Cost
Each unit of disposable cloth diapers is $20.
Popular options
Grovia
Thirsties
BumGenius
Kanga Care
All-in-Two Cloth Diapers
This is possibly the best-known cloth diaper variant. It is super easy to use or affordable as a cloth diaper option. It has good things for both disposable diapers and cloth diapers. The detachable insert of the All in two diapers can be reused multiple times. 
Pros
Easy to use
Flexible
Affordable
The detachable insert makes it super easy to use and even remove
Cons
This may lead to infections if the detachable inserts are not washed properly.
Popular options
Grovia
Super Bottoms
Bumpadum
Pocket Cloth Diapers
Currently, they are ruling the market by popularity. Pocket diapers are one of the best options because they can be easily assembled. It comes in a two counterpart system.
The first part is an outer layer that is waterproof using PUL, and the inner layer is made of an absorbant-wicking material cover like microfleece. The pockets are provided to accommodate additional absorbent material for better coverage. 
Pros
They are easy to assemble and also to remove
The provision for adding an extra layer of wicking material enhances the absorbance of the diapers.
Cons
They are much more expensive than probably all other variants of diapers. Additionally, the extra-absorbent materials would pose charges.
Popular options
Fuzzi Bunz
Apple Cheeks
Rumparooz
Flats Cloth Diapers 
This is the most primitive type of cloth diaper. This one is a typical old-school diaper type that your parents and grandparents have used throughout their lifetime.
It is the best organic cloth diaper type because it is constructed of 100% pure, natural cotton fiber. They are simple, inexpensive, yet vitally helpful as cloth diapers.
Pros
They are a simple diaper variant 
Easy to use and clean
They dry quickly and are available in all sizes
Cons
They are not quite readily available because everyone prefers to use pre-fold diapers.
They cannot be used without a diaper wrap or cover
Popular options
Mylo
Super Bottoms
Oso Cozy
Pre-fold Cloth Diapers
These are the typical cloth diapers that have been used for a long time. You can attribute them to old-school cloth diapers. The basic layout of these diapers is – folded and stitched with thicker middle padding.
The enhanced thickness in the mid portion of the diaper is created by stitching multiple cloth layers together. The materials used for pre-fold cloth fibers are hemp and bamboo.
Pros
Diaper change is easy with pre-fold diapers. You simply need to replace the pre-fold
They are made of organic fiber, thus comfortable and healthy for the baby.
Cons
An additional layer of cloth diaper cover has to be used, which is quite an inconvenient
They are not waterproof, and leakage is quite common
Cost
The approximate cost of each diaper is $2
Popular Options
Gerber Birdseye
Mylo
Super Bottoms
Bum Genius
Fitted Cloth Diapers
You can assume that fitted cloth diapers as a cloth version of disposable diapers. The design, cut, and effectiveness of these diapers resemble disposable diapers. They are made of cotton or absorbent bamboo fibers.
The contour shape of the diapers makes them super easy to use and change. They are known as fitted because their ends have to be fixed with velcro ties to secure their position. 
Pros
Easy to use because of the convenient shape
An ideal choice for active toddlers who exhibit a lot of movement
Cons
They are not waterproof and must be used with an additional diaper cover that increases the mess and cost.
Popular options
Kissaluvs
Cotton Fleece Fitted
Thirsties
Types of Cloth Diaper Fibers
Like the various types of cotton diaper varieties, there are several types of fibers. Let us explore some of them in detail.
Microfiber
Unlike many other fiber types, this is a synthetic fiber. While you can easily place all the natural fibers like bamboo or hemp against the baby's skin, placing microfibers against them is not recommended as they may cause rashes or infections.
However, it is a tremendously popular option for diaper fibers because it has the highest absorbance and can soak up quickly. You can use microfibers as the top layer for pocket fibers. The negative things about using microfiber are that: 
Cotton
Perhaps the most primitive and most widely used cloth diaper fiber. They are a natural fabric that is super absorbent and readily available almost everywhere.
Cotton is the best non-allergic cloth diaper fiber that you can think of. Not all diapers have the cotton insert. Some have woven fabric cotton.
Fitted diapers and all-in-one knit cotton diapers are also made of cotton. Cotton can also be used as an absorbent material for pocket diapers.
Bamboo
Bamboo is a slow absorber. It cannot absorb much liquid, and the absorbance pace is slow. However, Bamboo pre-fold diapers are pretty popular. Bamboo is becoming increasingly famous as diaper fiber because it is organic and does not cause rashes or infections.
It is sustainable and eco-friendly. Bamboo cloth diapers are easy to clean and have a higher shelf life. It may seem quite expensive at the time of the first buy, but it is reasonable in the long term.
If you are unsatisfied with the absorbancy of bamboo diapers, you can add some diaper covers for better protection. 
Hemp
It is the slowest diaper fiber absorbing but has maximum absorbance capacity. It can absorb enough fluid but very slowly. Hemp is not entirely perfect as a diaper material. It is the best fit for overnight or nap time usage. Hemp is an ideal choice for heavy wetters.
Hemp is a natural diaper fiber. It is eco-friendly and sustainable and best used for making sustainable diapers. Hemp is a favorite of many new moms because it does not stain. Even if the kid has blowout issues, hemp can give them the best support. 
Tips to Choose the Correct Type of Cloth Diaper
Here are some of the best tips for choosing cloth diapers:
Going for organic and sustainable options is better because they suit the planet and your baby's health.
Focus on frequently changing and cleaning diapers to prevent build-up and rashes or infections. Remember that every cloth diaper has a shelf life and can not be used for long.
Only choose cheap variants when it comes to cloth diapers. Go for only the reputed brands. Ensure that you use a sample piece before investing in them. 
Which type of Cloth diaper is the best?
Pre Fold Cloth diapers and Cotton blend insert diapers are the best choices. They are almost equal in function to disposable diapers. But when choosing cloth diapers, go for well-known organic brands.  
You may also like to Read: Do Cloth Diapers Leak?
Types of Cloth Diaper FAQs
Q. Can you leave a cloth diaper on overnight?
Yes, you can. Bamboo or hemp-made cloth diapers are best if left overnight. Moreover, cloth diaper covers can be used when leaving the diaper overnight. Try to choose cloth diapers with higher absorbance during the night. 
Q. Can you put a cloth diaper over regular disposable diapers?
Yes, you can. It will add extra protection for the child. But it is better to put the cloth diaper first in contact with the baby's skin and then use the disposable diaper over it. It will provide better protection and absorbance coverage. 
Q. Do cloth diapers absorb pee?
Yes, they do. Various types of cloth diapers have different absorbance levels. Ensure to check them out before buying. 
Conclusion
Let's conclude the post on types of cloth diapers!
In conclusion, there are several types of cloth diapers available on the market today, each with its own unique benefits and drawbacks.
It is important to consider your personal needs and preferences when deciding which type of cloth diaper is right for you and your baby.
Whether you choose prefold, fitted, pocket, all-in-one, or hybrid diapers, you can rest assured that you are making a more environmentally-friendly and cost-effective choice for your little one.
Don't be afraid to try out different types and brands to see what works best for you and your family. With a little bit of research and experimentation, you can find the perfect cloth diaper solution for your needs.
I hope you liked reading the post and found it helpful.
Thanks for your feedback!