Size 1 diapers are most commonly seen as small-sized diapers. However, there is another size Size 0 which is the smallest size.
So, there comes some confusion about whether to choose a Size 1 baby diaper. This guide would be handy if you are looking for a disposable diaper and not a newborn cloth diaper.
In this post, I will discuss all the important things you need to know about Size 1 diapers.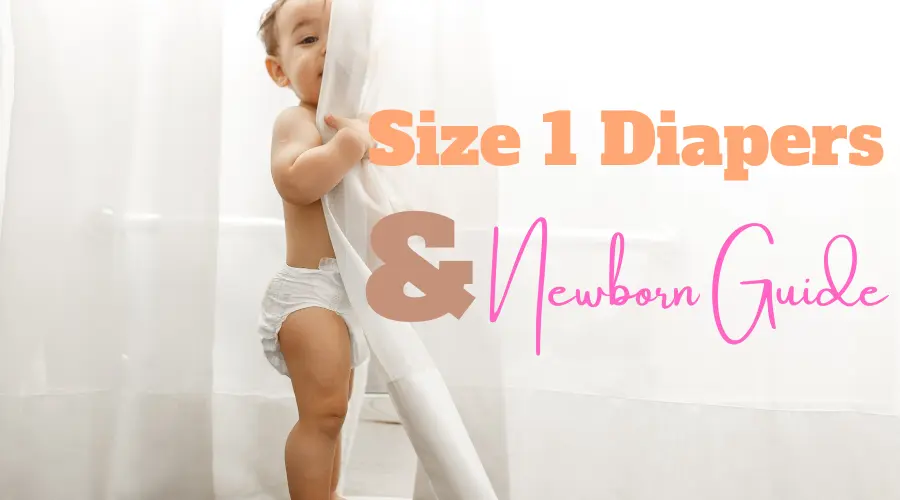 Let's get started!
Are Size 1 Diapers for Newborns?
Size 1 diapers are usually for a newborn baby aged birth to 4 months. From the fifth month of the baby, the size 1 diaper won't be appropriate for them any longer. To be more precise, size 1 diapers are best suited for babies who weigh 8-14 lbs.
Parents often face confusion about which one of the two – size 0 or size 1 would be the best for newborns. The newborn babies can wear both sizes of baby diapers. But, what matters is their weight at the time of birth.
Also, don't forget to check out the weight specifications for each brand because it is different in the case of multiple brands.
The standard weight recommendation says that babies can wear newborn diapers up to 8 lbs, after which they can switch to size 1 (after q week or two).
Whereas for some brands, the weight recommendation for size 0 or newborn diapers is 8 lbs.
So, all you need to do is research and real-life experience to get the best leakage-free diaper for your babies that would fit them well.
Also, look into the umbilical cord clearance in your diaper.
How long do babies stay in Size 1 diapers?
Babies can wear size 1 diapers up to 4 months of age. To be more precise, the babies can wear size 1 diapers till they attain 14 lbs. It is difficult to say when they will stay in size 1 diapers.
It depends on the height of the baby. They can keep wearing the size 1 diapers till they attain 14 lbs weight. Generally, the convention is to wear size 1 diapers till 4months of age.
But some babies groped faster and may need to switch to size 2 even before the completion of 4 months. A leakage-free true fit size 1 diaper can be immensely helpful for the baby and the parents during the baby's first months.
How Many Size 1 Diapers do I Need?
As a parent, if you have already decided to use disposable diapers for your kids and not cloth diapers, you must have a fair idea about how many diapers you may need. You would need around 8 to 10 size 1 diapers every day. That means you can plan to stock up some 3-4 boxes of diapers, each with around 300 diapers.
Let us presume the baby uses around 10 diapers per day, so that would be roughly 300 diapers in the month.
And if the baby uses the size 1 diaper for around 4 months, then the total number of diapers used would be 300*4 = 1200 (approx).
If you are planning to stock up, have this equation in mind. One pro tip is not to stock too much at a go. Always try out small sample packs or trial packs of a diaper if it works out and fits the baby well, stock up on it.
Buying too many at the beginning may lead to money loss if it does not fit the baby well.
When to Switch from Newborn to Size 1 Diapers?
There is a particular diaper variant labeled newborn diapers. This is an exclusive version that the baby uses only for a few weeks (maybe only the first week or the first 10 days) after birth. Usually, the ideal switch over time from newborn to size 1 diaper is the 2 nd week of the baby.
A baby would need somewhere around 8-12 newborn diapers every day.
So, if you are planning for some diaper stockings before the child is born, go for the newborn diapers, and you can stock up on around 200 newborn diapers.
When the child starts a bit of movement, it is ideal to switch to size 1.
Can a 1-Month-Old Wear Size 1 Diapers?
Yes, they can. Size 1 diapers are usually manufactured for babies aged newborn to 4months.
A 1-month-old baby (4 weeks) can also wear diapers of size 0 provided they weigh below 8 pounds (the safe weight recommendation is to wear size 0 diapers only up to 6lbs weight).
Sometimes, the baby's age matters less, and the weight recommendation of the diapers becomes significant. Some babies may be underweight or overweight. For them, rather than age, the weight recommendations matter more.
Difference Between Size 0 and Size 1 Diapers
Size 0 diapers are meant for kids weighing 6-8 lbs. At the same time, size 1 diapers are meant for babies weighing 8-14 lbs. Both diapers can be worn right from birth.
Size 0 diapers are meant for the first 1 or 2 weeks from birth, and size 1 diapers are best suited for babies from birth to 4 months.
Can an 8-pound baby wear size 1 diapers?
Yes. The size 1 diapers are crafted for babies weighing 8- 14 lbs.
Babies weighing up to 10 lbs can wear newborn or size 0 diapers. 8-pound babies cannot wear size 0 or newborn diapers because they are usually for babies below 6lbs.
Are Pampers size 1 for newborns?
Pampers has distinct P1 and N-type diapers for newborn babies. However, the size 1 diaper can be worn by any baby who weighs 8-14 lbs as per the standard norms.
Usually, right after birth, the Pampers N or P1 variants would suit best because they fit babies under 6 lbs which is the general birth weight. Pampers manufactures diapers up to size 7.
Is Size 1 the smallest diaper size?
No. It is not the smallest size. There is a newborn or size 0 diaper exclusively for newborn babies that serves them well for around 2-3 weeks after birth.
The size 0 diapers are designed for newborns up to 10 lbs. After that, it is usually recommended to switch over to size.
However, you can also decide on diaper sizes based on your child's weight and doctor's recommendation.
Can a 2-week-old wear size 1 Diapers?
Yes. Size 1 diapers can be worn by all babies right from birth till 4 months. 2-week babies can wear size 1 diapers if they weigh anywhere between 8 lbs to 14 lbs.
For a 2 weeks baby, the newborn or size 0 diaper would also fit if the baby weighs under 10 lbs.
Conclusion
Let's conclude the post on Size 1 Diapers and newborns!
Once you chose the right diaper size, you will now be less worried about your baby's leakage from diapers or baby diaper blowouts. Slowly, start potty training your baby till you can get rid of the frequent use of diapers.
Now, as we came to the end, let's know some great Size 1 diapers available.
You can check these from Pampers and Huggies diaper brand like Pampers Baby Dry Size 1, Pampers Pure Size 1, Huggies Little Movers Size 1, and Huggies Little Snugglers of Size 1.
I hope you enjoyed reading the post.
Thanks for your feedback!