The choice of a pacifier for your infant can be simple or difficult, depending on what type of pacifier you use.
Pacifiers are often made of rubber or silicone. 
If you are having a baby or know someone who is, it's important to find out which kind of pacifier is best.
Both rubber and silicone pacifiers have their advantages and disadvantages.
It might be tempting to go with the cheaper option, but it's not always the best choice.
Use this guide to learn more about rubber vs silicone pacifiers and suitable for your baby.
The most important difference between Rubber and silicone Pacifiers is that silicone is more heat resistant, will not melt in boiling water, and contains no BPA. Rubber will degrade when exposed to heat.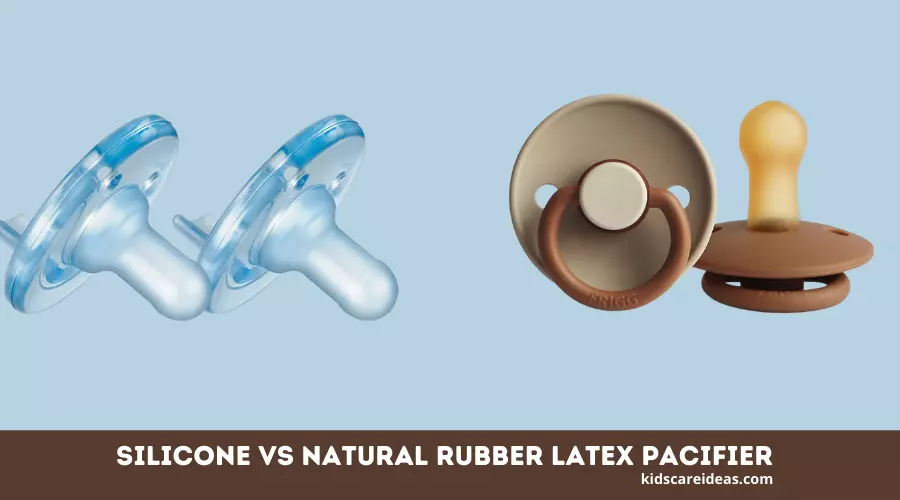 Let's get started!
Natural Rubber Latex vs Silicone Pacifiers
| | | |
| --- | --- | --- |
| | Natural Rubber Latex Pacifiers | Silicone Pacifiers |
| Material | Made of Natural rubber obtained from the sap of rubber trees | Made of Industrially made Silicone (medical-grade in most branded pacifiers) |
| Durability | Has natural aging and wears off with time | Lasts long and can be reused more. |
| Allergy-Friendly | May cause Allergy to those who are allergic to latex | Silicone would not cause allergy |
| Sterilization | Only by pouring boiling water. Any extra heat would cause it damage. | Can be boiled, and microwave sterilized and does not degrade at higher temperatures. |
| Taste | Has a rubbery taste | No taste as such |
A rubber pacifier is an artificial nipple-like material made from natural rubber or Latex.
This material results in a soft and flexible pacifier suitable for soothing the baby's gums.
On the other hand, a silicone pacifier is manufactured using Silicone plus chemical preservatives and softeners.
Silicone is firmer than natural rubber, thus a better option for moms needing long-lasting pacifiers.  
Material
Natural rubber latex is used for many medical purposes, including for gloves, catheters, and of course, pacifiers.
The Natural Rubber Latex pacifiers are made of naturally obtained rubber from the sap of Rubber trees.
It is a traditional type of material used in Pacifiers for a long time. The rubber is then processed, dried, and cut into small pellets.
These pellets are then molded and shaped into the pacifier shape. 
Silicone is a synthetic material. It is used in many medical devices, including pacifiers.
They are industrially processed and made into pacifiers.
Most popular brands use Silicone which is medical grade and does not contain BPA.
Whenever choosing a silicone pacifier, you need to check if it is BPA and other harmful chemical-free.
Durability
When choosing a pacifier for your baby, it is a good idea to choose a durable one since the baby will be chewing on it.
Pacifiers made of rubber or Silicone are often the most durable and long-lasting for babies. 
Silicone is a more rigid material than Latex, making it more durable.
The durability of Silicone also means that it is less prone to punctures and tears.
On the other hand, Latex is a softer material, making it more comfortable for the baby.
It is also more flexible, making it easier to fit the baby's mouth.
As a softer material, Latex is more prone to punctures and tears.
Allergy Friendliness
Did you know that natural rubber pacifiers can cause an allergic reaction in your baby?
It can cause an allergic reaction if your baby is allergic to latex material.
Here is a Latex allergy study in infants younger than one year.
In the case of silicone pacifiers, the material is an allergy-friendly one. So, you can use it safely without any issue.
ou need to check the quality of the Silicone used in the pacifier to see if it is medical grade.
Cleaning and Sterilization
Sterilization is a very important area that is vital for pacifiers, and both the natural rubber latex and Silicone pacifiers have significant differences in the process of sterilization.
Natural Rubber Latex pacifiers get damaged at higher temperatures above 100 degrees.
It is not recommended to boil it or a microwave oven to sterilize it.
So, in this case, you need to boil water as per the instruction manual of the pacifier.
But, in the case of Silicone Pacifiers, you can boil them or microwave them to sterilize them.
It saves time as compared to Natural Rubber latex pacifiers. Also, the overall cleaning is much easier to do.
Taste
Generally, the pacifier's taste does not matter much. Rubber pacifiers have a slight rubbery taste, which comes from Natural rubber material.
Silicone pacifiers have the added benefit of being completely odorless and tasteless, which can help prevent the baby from being distracted by the taste of the pacifier.
Are Rubber(Latex) Pacifiers safe?
Yes, rubber pacifiers are safe for babies. A rubber pacifier is natural, soft, and pliable.
Moreover, the materials that make rubber pacifiers are biodegradable and don't have any toxins or chemicals.
It is, therefore, safe for a child.
Are Silicone Pacifiers safe?
Silicone pacifiers are safe because Silicone is a non-toxic, flexible material that can be sterilized.
Silicone pacifiers also benefit from being able to be shaped into different shapes for babies with different mouth shapes.
Silicone pacifiers are usually made of Silicone that is odorless and renowned for its purity.
It is produced by state-of-the-art machining approaches and strict regulations to prevent harmful effects on humans or their surroundings.
Benefits of Natural Rubber Pacifier (made of Latex)
Rubber pacifiers are super soft and elastic, creating a more natural feel.
Made of 100% natural rubber.
Environmentally friendly and safe for use by children. 
Drawbacks of Natural Rubber Pacifier (made of Latex)
Materials adopt a natural aging process, and color variation may occur.
Prone to wear and tear, plus it expands and breaks down quickly.
Benefits of Silicone Pacifier
Silicone pacifiers are easier to clean and sanitize without the worry of breakdown.
Ability to retain their shape without the fear of aging. 
The pacifiers can withstand high temperatures for easier sanitization. 
Silicone is odorless, thus, safe to use.
Much more affordable compared to rubber pacifiers.
Drawbacks of Silicone Pacifier
It is more rigid than an actual nipple.
Which is better: A Rubber or a Silicone pacifier? 
Well, several factors determine how to answer this question.
Both rubber and silicone pacifiers have their benefits, so choosing one over the other is a matter of personal preference. 
However, I would recommend a rubber pacifier for babies without teeth due to its softness and flexibility which makes it comfortable and safe to use. 
Here are some awesome Rubber pacifiers at Amazon:
Sale
Bestseller No. 1
Sale
Bestseller No. 2
Bestseller No. 3
Last update on 2023-11-22 / Affiliate links / Images from Amazon Product Advertising API
On the other hand, silicone pacifiers are best suited for use by babies with teeth, given that it is pretty rigid, sturdier, and long-lasting, which means that they do not break down easily as a result of biting.  
Rubber pacifiers are easier to chew as they will become softer as time goes on, unlike silicone ones that don't.
If you're looking for a soft pacifier that has a different material to it, Silicone might be the better option for you.
Here are some awesome Silicone pacifiers at Amazon:
Sale
Bestseller No. 1
Sale
Bestseller No. 2
Sale
Bestseller No. 3
Bestseller No. 4
Last update on 2023-11-22 / Affiliate links / Images from Amazon Product Advertising API
Conclusion
Let's conclude the post on Rubber vs Silicone Pacifier!
There are many benefits to choosing a silicone pacifier over a rubber one.
Silicone is much easier to clean and does not contain any harmful materials for babies' teeth or gums.
It is also safer in the case of choking because it can be chewed on without breaking.
Silicone pacifiers are an excellent choice for parents.
I hope you enjoyed reading the post.
Thanks for your feedback!