If you're a first-time parent, or even a seasoned one, you know that there are so many choices to make when it comes to taking care of your little one.
But one of the most important decisions is what kind of diaper to use. Two of the most popular diapers from Pampers are Cruisers and Baby Dry.
So, what's the difference? And more importantly, which one is better?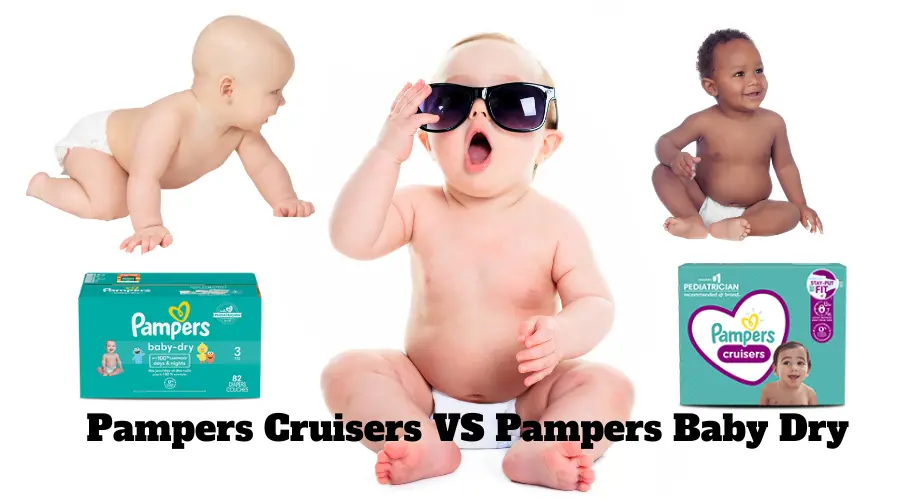 Let's get started!
Pampers Cruisers vs Pampers Baby Dry Comparison
| | | |
| --- | --- | --- |
| | Pampers Cruisers | Pampers Baby Dry |
| Target toddlers | Older babies | Newborn and toddlers |
| Size | 3 to 7 | 1 to 6 |
| Fitness and security | Super Stretchy Sides | Caterpillar Flex straps |
| Absorption quality | Lock-away channels | Three-layer interior with an ultra-absorb core |
| Comfort | Soft and comfortable | Soft and comfortable |
Pampers Cruisers Review
I purchased Pamper Cruisers because a friend of mine suggested me. The first thing that I noticed in a diaper is its super softness.
It made me happy that my baby will not have any discomfort while wearing the diaper.
However, the size seemed a bit bigger than I expected, which caused a bit of inconvenience while putting it on.
Moreover, I realized that I should have bought a size smaller for a good fit.
Fortunately, the band was strong enough to hold the diaper well and as a result, it did not move despite the mismatched size.
The absorbency is amazing. It lasted long with no leakage at all-even with overnight usage. 
Pros
Wide range of sizes;
good absorption;
perfect fit;
cottony-soft
Cons
The size may bother many parents;
the price is higher
Verdict
Each diaper costs 32 cents, which may appear a bit on the higher side.
But if matched with its performance, the price does not pinch too much. It is still Worth a try.
Last update on 2023-11-22 / Affiliate links / Images from Amazon Product Advertising API
Pampers Baby Dry Review
My experience with Pampers Baby Dry has been good. I had heard mixed reviews before, which made me somewhat skeptical, but the reasonable price of the product lured me.
And to my surprise, I found its purchase not a waste of money. I have a newborn child, and this diaper suited her amazingly.
Its super absorbent kept the liquid inside, leaving my baby's skin dry and rash-free.
The diaper also has a wetness indicator that lets me know when the diaper needs a change.
And yes, it does require frequent change. I think the absorbent capacity is not that high on this diaper.
But, overall, I think this product works for my little one. 
Pros
Reasonably priced;
high dryness;
protection from rash;
availability in more sizes 
Cons
The possibility of leakage is high;
absorbency capacity is not sufficient
Verdict
Each diaper costs 25 cents, which is pretty reasonable. Its function matches the price. This is a Value for money product.
Last update on 2023-11-22 / Affiliate links / Images from Amazon Product Advertising API
Diaper Material Quality
Both diapers are made of ultra-soft material, making the diapers cotton-like, soft and comfortable.
In addition, none of the products are expected to cause any chafe or irritation to the baby's skin.
Waistband Quality
So far as the waistband is concerned, Pamper Cruisers have a comfortable 3-way fit that helps the baby move freely.
In addition, the stay-up strap allows the diaper to stay in place and not droop when the baby moves.
Unfortunately, Pamper Baby Dy does not come with a 3-way fitting enclosure, leading to a possibility of a loose fit and increased leakage. 
Size and Fit
| | | |
| --- | --- | --- |
| Sizes | Pampers Cruisers | Pampers Baby Dry |
| Size 1 | – | 8-14 lbs |
| Size 2 | – | 12-18 lbs |
| Size 3 | 16-28 lbs | 16-28 lbs |
| Size 4 | 22-27 lbs | 22-37 lbs |
| Size 5 | 27+ lbs | 27 + lbs |
| Size 6 | 35+ lbs | 35 + lbs |
| Size 7 | 41+ lbs | – |
Comfort
While both diapers are soft and comfortable, the Pampers Baby Dry is more breathable due to the air dry channels.
Besides, Pamper Cruisers have Super Stretchy Sides that help the parents put the diaper on the baby.
A similar feature is not available in Baby Dry diapers. But it has Caterpillar Flex straps that help keep the diaper in place.    
Liquid Absorbency and Leakage
Pamper Baby Dry has three layers of interior and an ultra-absorb core. As a result, it has a higher capacity to absorb the liquid and keep the baby's skin dry for an extended period.
However, there remains a possibility of leakage due to insufficient ability to absorb.
On the other hand, Pamper Cruiser has two layers of interior and lock-away channels.
Consequently, its moisture-locking capacity away from the baby's skin is high, but it may not be as good as Pamper Baby Dy in terms of dryness.   
Overnight Usage
Overnight usage calls for high absorption capacity. Although Pamper Baby Dry promises all-night protection, it does not state the number of hours the protection will sustain.
On the other hand, Pamper Cruiser states that it will keep the baby protected for 12 hours. As a result, Crusier seems a better choice when it comes to overnight usage.  
Wetness Indicator
Pamper Baby Dry is made of a material that is pH sensitive.
As a result, the material's color changes when it comes in contact with wetness, indicating to parents the time to change the diaper.
However, Pamper Cruisers do not have such a wetness indicator.
Which one is better between Pamper Cruisers and Pamper Baby Dry?
Both pampers have their positives and negatives. Therefore, comparing them and choosing a winner out of the competition isn't easy.
However, what can be concluded is that these two products cater to two different groups of babies.
While Pamper Baby Dry is meant for newborns and toddlers, Pamper Cruisers is best suited to active babies. 
Last update on 2023-11-22 / Affiliate links / Images from Amazon Product Advertising API
Conclusion
Let's conclude the post on Pampers Cruisers vs Pampers Baby Dry!
Both Pampers Cruisers and Pampers Baby Dry are great options for diapers.
They both have their pros and cons, but ultimately it comes down to personal preference.
Whichever one you choose, you can be sure that your baby will be comfortable and dry.
I hope you enjoyed reading the post and found this helpful.
Thanks for your feedback!