Nerf Accustrike darts have become the talk of the town; everyone talks about them, from small children to adults, and do you want to know why? 
This article gives you a complete review of everything you should know about these darts. 
From the tiniest detail, you wish to know to the biggest ones you had no idea about. 
Here is what to know about the Nerf Accustrike darts, among others.
Let's get started! 
Are Nerf Accustrike Darts better?
The Nerf Accustrike darts are made to meet the desired accuracy, and they are the most accurate darts you will ever find on the market. What even makes them better is that they are compatible and can be used with other blasters.
These darts are made to be more precise than accurate for longer distances. However, they are both precise and accurate for shorter distances.
Baby Toy and Gears Guide at KidsCar...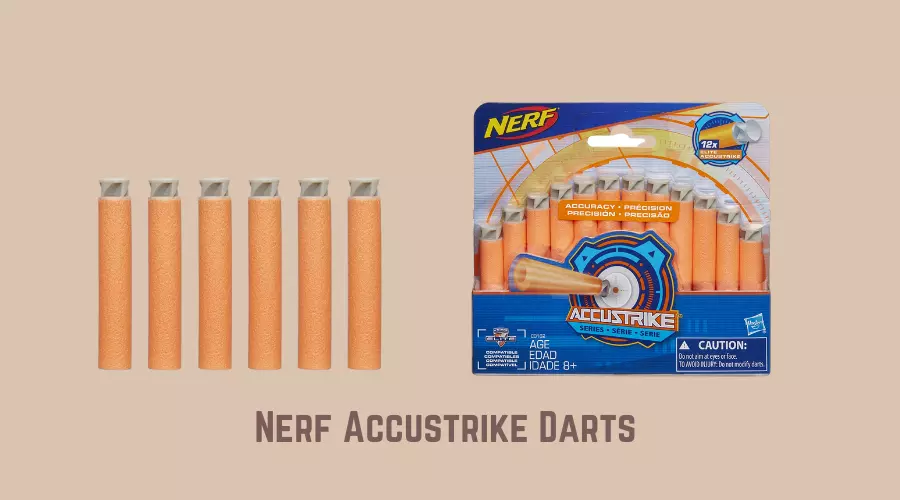 Dart Weight
The Nerf Accustrike is among the lightest darts anyone needs to use.
The low weight makes it the best and most accurate while using it.
Moreover, that is the exact reason why it can go for longer distances and still be accurate.
Hit Accuracy
Usually, all darts fall on the flight; the Nerf Accustrike darts have high hit accuracy at shorter distances and precision. However, these darts tend to have more precision than accuracy over long distances. 
To summarize their hit accuracy, we can say that they are more accurate in shorter distances than the hit accuracy you will get when using them on longer distances. They are considered the most accurate darts in the elite nerf darts.
Color Schemes
The Accustrike darts are available in various color schemes, which are:
1. Nerf N-Strike Elite Accustrike Series Darts
This is the most basic Accustrike series dart. If you have heard about Accustrike Darts then this is the most common one that come with an orange body with a gray head.
It looks minimal with not so fancy looks. However, in terms of performance the entire accustrike series is incredible.
2. Nerf Rebelle AccuStrike Series Darts
It has a Purple colored body with a gray or white head.
3. Nerf N-Strike Mega AccuStrike Series
This refill has a Red Body with white head.
4. NERF AccuStrike Ultra Darts
These darts come with a unique color combination. The body is grey color with textures in it. The head is of red color. These looks cool to have as a choice for dart.
However, this Nerf AccuStrike Ultra Darts can be only used for the Ultra Blasters.
You can choose any of these color schemes based on your favorite and what you want to achieve at the end of it or for your child's sake because they are child-friendly.
Refill Size of Accustrike
The refill sizes of Nerf Accustrike are standard as the Nerf Elite refills.
The refill size of Nerf Accustrike is 2.8″ by 0.5″ (Same as Nerf Elite).
Compatibility with other nerf guns
The Nerf Accustrike darts have been designed to meet the highest level of accuracy. 
Among all the nerf darts available, these are the most accurate ones. what makes them even the best to consider using is that most darts are compatible with all other nerf guns. 
Therefore, if you are a player, rest assured that you can use them with the rest of the guns, such as elite, zombie strike, modulus, and Accustrike elite blasters.
Pros and Cons of Nerf Accustrike
The following are the pros and cons of the Nerf Accustrike darts:
Pros
Durable
Accurate
High quality
Affordable
Cons
Thicker and challenging to fit in the nerf N-strike blaster
Are Accustrike Darts worth the money?
Yes, the Accustrike Darts are worth every penny, they give you the accuracy you desire, and they are long-lasting. This means you can use them for the most extended period possible.
Is Nerf Accustrike better than Streamline Darts and Elite Darts?
Another big question, Do the Nerf Accustrike darts work better than the streamlined darts and elite? Let's find out what they have for us:
Accuracy
The Nerf Accustrike is made with a design that gives them high accuracy, especially in shorter distances. They are now the most accurate darts available among all the other designs. 
The streamline darts are notorious for achieving accuracy because their foam bodies have a long rubber stick and the dart head is entirely hollow. Lastly, the elite darts are accurate. 
However, their accuracy cannot be compared to that of the Nerf Accustrike because their precision is much better than accuracy.
What does this mean? The Nerf Accustrike darts are better than the streamlined and elite darts.
Durability
No one would want to go to the market looking for the same product repeatedly; everyone looks for durability. 
The Nerf Accustrike darts can be used for an extended period and still stay strong; they are long-lasting. 
The streamline darts become softer when used over time; when you use them for a long time, they cause more harm to the blaster and even make things worse as it becomes difficult to use them. 
Lastly, the elite darts are durable, for they can last for long under any circumstances. 
Among the three, we can see that the Nerf Accustrike darts still emerge at the top due to their outstanding features. 
Darts are durable and more accurate, something most people are looking for. 
Thus if you are made to choose among the three, the best option should be the Nerf Accustrike darts.
Conclusion
Let's conclude the post on whether the Nerf Accustrike Darts are better than other darts.
Accustrike series of Nerf Darts are more precise than the earlier Elite Darts. They are also lighter and hit more precisely. The deviation of your Nerf Dart after shot is lesser as compared to the other darts.
I hope you enjoyed reading this post.