If you just found Jenga and started playing it or if you just want to know Jenga's History, it is indeed worth exploring its history and knowing more about it.
Jenga is a classic game that many people know and have played. It is a game that has been around for many years, and its popularity has only grown in recent years.
Though it is a very simple block stacking game, still the enjoyment and excitement this game gives whether you play in a small group or big group is unmatched.
Let's get started!
What is Jenga?
Jenga is a game with the simple premise of stacking blocks. Players take turns removing a block and placing it on the top of the tower. The game ends when the tower collapses or if any block falls from the tower.
The goal is to remove the block without causing the tower to collapse.
Jenga can be played with two or more players, making it perfect for parties and family gatherings.
Why was Jenga invented?
Creator Leslie Scott and her brother created a game to pass the time by creating a skyscraper from bars and pulling out the bars until the skyscraper collapsed.
This was the beginning of the game we now know as Jenga.
History of Jenga Game
The game we know as Jenga was originally called "Blocks from Takoradi" and evolved into Jenga, which is derived from the Swahili word kujenga which means "to build something".
The original Jenga game involves 54 hardwood blocks.
There are now a variety of official variants, like Giant Jenga, Jenga XXL Cardboard Game, Jenga Throw 'N Go, and Jenga Premium Hardwood.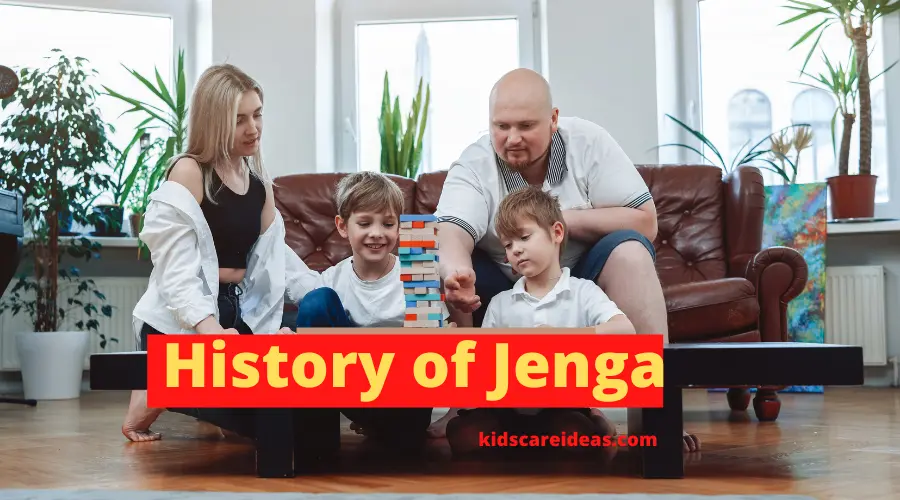 You can also buy themed Jenga games and collectors sets, like Harry Potter or a National Parks-themed game, or get a customized set of blocks.
This game has also gone digital with an app you can download on your smartphone or play on your computer.
When was Jenga invented?
Jenga was invented in the 1970s in Takoradi, Ghana. The game was officially launched to the public in London in 1982.
Jenga was launched in North America in 1986 under Pokonobe Associates, who still own the license to this day.
Hasbro acquired the rights to sell Jenga in 1987 and launched the game under the Milton Bradley banner worldwide.
As of 2021, over 90 million Jenga games have been sold.
Who invented the game Jenga?
Jenga was invented by Leslie Scott in the 1970s. Leslie was a British national who was born and raised in Africa.
Leslie and her brother created a game to pass the time that eventually became the game we all know and love today, Jenga.
What is the purpose of playing Jenga?
The purpose of Jenga is simple to understand, but this game requires both mental and physical skills.
Everyone in the family can play and have a great time.
Pros of Playing Jenga
Here are the pros of Playing Jenga:
Jenga is an exciting game with simple enough rules for everyone to understand. It's a great game to play with friends and family.
Those with good hand-eye coordination may do better at this game.
New players may not realize that the blocks have minor variations, which makes some easier to remove than others. Overall, most people enjoy playing Jenga.
Cons of Playing Jenga
Playing Jenga can be a lot of fun, but there are also some potential cons to consider.
It is not easy in the beginning
Basic Jenga Rules
The game starts by stacking blocks into a tower. Typically, there are 54 blocks.
However, depending on what version of Jenga you are playing, the number of blocks may differ.
Stack the blocks in sets of three with each row perpendicular to the row below until the tower is built. The player who builds the tower gets to go first.
Players then take turns removing one block and placing it on top of the structure.
Only one hand may be used to remove the block.
Blocks can be removed from any level except the one below an incomplete top level.
Blocks can be tapped and nudged to see if they are easy to remove.
The game ends when the tower falls, either by the removal of a block or when placing a block on top of the tower.
The loser is the person whose turn caused the tower to fall.
Conclusion
Let's conclude the post on the History of Jenga!
Jenga is an enjoyable game that can be played by people of all ages.
It is a great game to play with friends and family, and it can be enjoyed both indoors and outdoors.
Jenga is also a great game for parties, and it can provide hours of entertainment.
If you have never played Jenga before, I encourage you to give it a try. You will not be disappointed.
Here are some of my favorite Jenga sets on Amazon:
Last update on 2023-09-26 / Affiliate links / Images from Amazon Product Advertising API
I hope you enjoyed reading this post.
Thanks for your feedback!