Most new parents think that they can use a microwave or pot of boiling water to warm their breast milk, however, these methods are not always safe for the milk.
The best way to warm up your breast milk is by using a bottle warmer like Tommee Tippee. 
The Tommee Tippee Bottle Warmer is an excellent solution that warms baby bottles easily. You put this pack into the warmer, and it will heat your cold milk in less than 5 minutes.
The Tommee Tippee Bottle Warmer is designed to safely warm up baby bottles with a wide variety of nipples.
It comes with a thermo-resistant outer case for the bottle warmer, protecting the bottle and its nipple from heat. 
So, you've got a new baby, and now you need to know how to use a Tommee Tippee bottle warmer. Not to fear,
I am here to help you. I have put together this blog to guide you through the process and make it as easy as possible.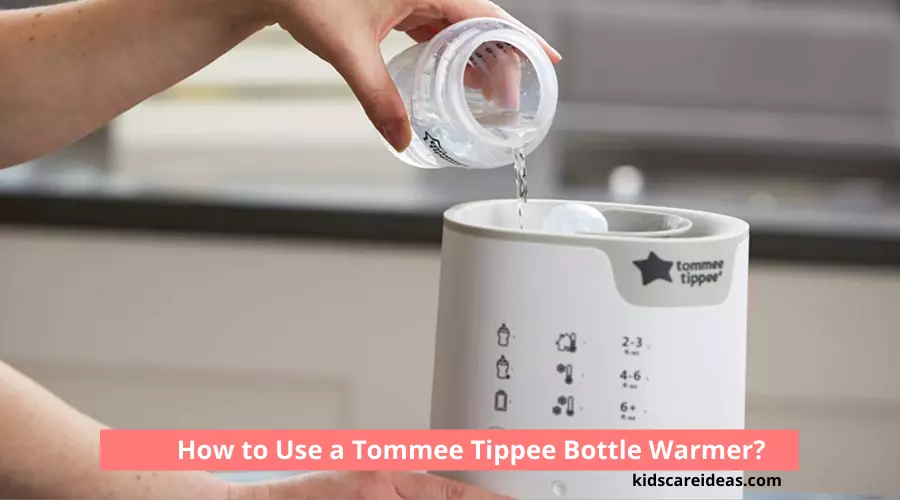 Let's get started!
Why Use a Tommee Tippee Bottle Warmer?
Tommee Tippee makes a variety of high-quality baby products perfect for babies as they grow and change.
The Tommee Tippee Bottle Warmer is one such product that allows parents to warm up their baby's milk before feeding time, making it more consistent and easier to digest
The Tommee Tippee bottle warmer is a machine that is designed to make breast milk or formula more warm and comfortable for babies.
The bottle warmer heats milk or formula to the perfect temperature of 98-100 degrees Fahrenheit, which is not too hot but not too cold.
This means that even if your baby can't drink very much at one time, the milk will be just as lovely and warm as when you first gave it to them. 
I'm here to tell you all the ways how and why you should use a Tommee Tippee Bottle Warmer. 
First, it's faster than waiting for water in the microwave to heat up, saving you time and energy. 
Secondly, when using a bottle warmer, your milk is heated to the perfect temperature every time, saving you from the risk of burning or scalding your baby's mouth, leading to pain and discomfort. 
Lastly, it's easy and convenient!
How to Use a Tommee Tippee Bottle Warmer?
A Tommee Tippee bottle warmer is designed to heat a baby's milk in an instant so that the baby gets to feed at the right temperature.
It is designed to warm up bottles quickly and safely. You will have to follow certain steps to warm up the milk correctly.
Here are the steps in which you can use your bottle warmer: 
Step 1: Put the bottle warmer on the flat surface top and far from the edges. You should place the wire in the base bottom gap to help in movement minimization. 
Step 2: Put the baby bottle using a cap in the warmer inside part.
Step 3: Ensure you add some water to your warmer. Besides, be careful to ensure you never get to fill the water to the brim. Always ensure you leave a 10mm gap between the brim and the water level. Thus, the water will overheat at all times whenever heated.
Step 4: Plug and turn the dial by clicking three, the highest setting. In this case, the light will turn. Thus, you will have an indication whenever the inside water gets heated.
Step 5: Ensure the light gets to turn off automatically. When this happens, the bottle will be ready.
What Does a Tommee Tippee Bottle Warmer Do?
Bottle warmers are a common appliance in many homes, and they are designed to heat up bottles of formula, breast milk, or juice prior to feeding the baby.
Tommee Tippee is one of the most popular brands on the market. 
The Tommee Tippee bottle warmer is intelligent and gets to heat the formula and breastmilk to a body temperature in a gentle manner.
In this case, you will succeed in nutrient preservation at all times in the different feeds.
Many people as well get to use it in the frozen nature.
You will find that the warm feeds get to warm the bottles of baby milk through a 4 minutes pouch.
Their dial operation is also simple to use. 
It's a wonderful invention that saves your baby from the discomfort of having cold milk in her mouth.
It also helps to warm the milk you're feeding your baby, which makes the whole experience of nursing a lot smoother.
Bestseller No. 1
Bestseller No. 2
Sale
Bestseller No. 3
Last update on 2023-11-21 / Affiliate links / Images from Amazon Product Advertising API
Do You Put Water in The Tommee Tippee Bottle Warmer?
Yes, water needs to be added below the rim into the warmer.
Put warm water to the brim of the bottle warmer to 10mm approximately of the warmer rim.
Also, ensure the water never gets to rise or overflow over the neck of the bottle.
In the case of larger bottles, you should fill the bottle warmer below 12mm. Before you get to plug it in, ensure you switch the bottle warmer to the "MIN" setting. 
How Much Water Can You Put in The Tommee Tippee Bottle Warmer?
Before you clean the tippee bottle warmer, make sure you unplug the bottle and cool the unit before starting the cleaning process. Besides, pour all the remaining water out of the pouch and bottle warmer after every use. Pu around 10mm of warm water in the bottle. 
How long does Tommee Tippee bottle warmer take?
The time for heating the punch or bottom varies, and a person takes around two minutes and a maximum of half an hour depending on the milk starting temperatures.
FAQs on How to Use a Tommee Tippee Bottle Warmer
Q: Can I leave a Tommee Tippee bottle warmer all night?
Ans: Make sure you leave your warmer in ideal working order at all times. This implies a person should never leave the bottle throughout the night unless its manual says it is safe for one to do so. 
Q: Do you put water in a baby bottle warmer?
Ans: Yes, ensure you get to fill water in the reservoir or warming chamber as this is the best way to use the Tommee tippee bottle warmer.
In the case of many models, add water to the warming chamber and add extra water until it gets a chamber's interior set line. 
Q: How hot does Tommee Tippee bottle warmer get?
Ans: The heating rate varies with the food container or bottle size.
It is best to start with three heating settings, and you will set the product to either one or two heat when you finish heating. 
Conclusion
Let's conclude the post!
It's incredible how fast that little one grows. Babies are constantly hungry, always wanting something to suck on.
As they get older, it becomes increasingly difficult to keep them satisfied with their bottles of milk or formula.
Whether you are breastfeeding or bottle-feeding your baby, you must use a Tommee tippee bottle warmer to heat the milk so it is warm enough for the child to enjoy.
If you're breastfeeding, the Tomme tippee bottle warmer will be your best friend once your baby starts drinking formula because it can help to bring the milk to the right temperature quickly. 
With my guide on how to use a Tommee Tippee bottle warmer, I hope that you will be able to use this product with ease.
I hope that you will be able to use it to warm your baby's bottle quickly and effectively so that you can feed them the nourishment they need.
I hope you enjoyed reading the post.
Thanks for your feedback!