In this blog post, I will be discussing how to play Monopoly online for free on your PC and Mobile. 
Monopoly is a board game that has been around for centuries, and it's a great game for people of all ages. 
Whether you're looking for a fun way to pass the time, or you're looking for a competitive game to play with friends, Monopoly is a great option. 
While there are many different ways to play Monopoly, we'll be focusing on how to play Monopoly online for free.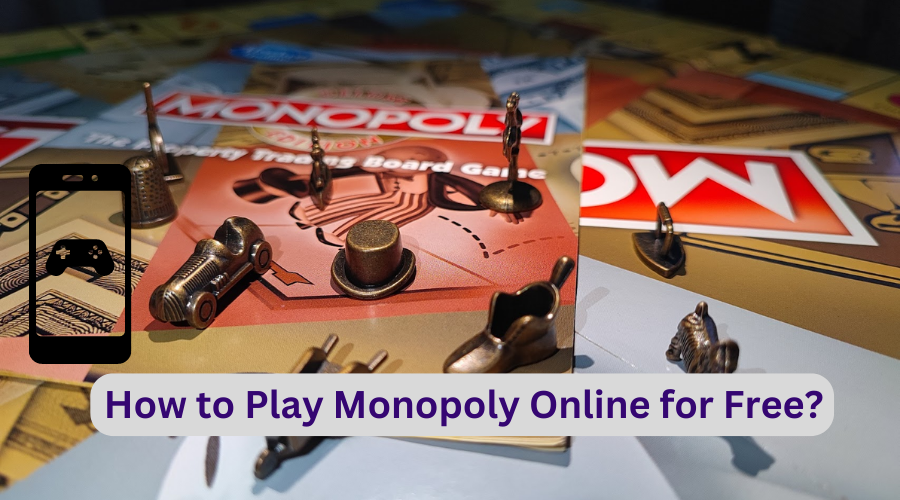 Let's get started!
How to Play Monopoly Online for Free on PC?
Multiple versions of the Monopoly game can be played for free online. Classic monopoly can be played for free on PC only for Windows users.
Other versions of the game are available for free for non-windows users as well. Some of the similar versions are described below. 
Rento Game
Rento is a version of the monopoly board game. It is a multiplayer game involving 2-6 players. The game is centered around trading lands and building houses. Auctions and trading property are also a core part of the game.
The pawns and dice are customizable, which makes it even more exciting. This is a fun game and not much severe. Most of the house rules of Monopoly apply to the game.
You can play Rento monopoly game online with your friends. Even if you don't have friends, go for the robot mode, where you can play with robots via artificial intelligence.
This is a fantastic game where you must apply your wit to get the best. The game has numerous settings to enhance the difficulty level and complexity. Explore each detail to make the game even more throbbing.
Pros
 Fun and exciting
Multi-player game apt for playing with friends
It can be played with robots when you have no one to play along
 Trading and auction are fun
Cons
 More than 6 players cannot play it
 In the robot mode of the game, winning is often impossible.
Here is the Link to the Rento Game.
Capitalista on Gidd.io
Capitalista is one of the currently most popular board games. It resembles Monopoly but is not precisely the same. The target of each player in the game is to try and become the best capitalist in the economy.
They can build houses and hotels and collect rent from their fellow players. Property trading, buying, and selling are all available in the game.
Pros
  Up to 20 players can play the game at a time
 Fun and exciting
 The game is almost as complex as the Monopoly board game
Cons
There are high chances of going bankrupt
Here is the Link to the Capitalista Game on Gidd.io.
Board Boss on Game Flare
Board Boss is an immensely popular game because of its versatility. The idea of the game is to grow an empire by adding a property to it.
Players can buy and rent houses and lands and rent them out for rent. One player must play the game, and the computer will control the two opponents. The game is based on Monopoly with similar rules applied.
 Pros
 Fun and exciting
It can be played all alone
 Cons
 Gets boring sometimes due to the computer-controlled opponents.
Here is the Link to the Board Boss Game on Game Flare.
Rich Up
As the name suggests, the game revolves around wealth and prosperity. The money involved in the game is enormous compared to the classic monopoly game.
Players usually indulge in trading properties and collecting rent. One of the core aims of the game is to build hotels because that fetches a considerable income.
Pros
 It is one of the best games to get rich and richer
 The rules are more accessible and can fetch massive money if played properly
Cons
There are very high chances of going bankrupt.
Here is the link to the Rich Up Game.
Monopoly on Solitaire Paradise
The monopoly on the solitaire paradise game revolves around property trading and real estate. You can buy and trade property while collecting rent from other fellow players.
With the houses and hotels, it can drive other opponents to bankruptcy. The target is to become a capitalist as soon as possible by driving the other players into bankruptcy.
Pros
Cons
 It is complex and challenging to win the game.
Here is the link to the Monopoly Game on Solitaire Paradise.
Monopoly Online on Arcade Spot
Arcade Spot is a fantastic platform to play monopoly online for free. If you truly want to experience the essence of classic Monopoly but don't own a board, playing it on Arcade spot is truly the best idea.
Up to 4 players can play Monopoly online in an arcade spot at a time. There are also 2 or 3-player modes for the game.
The best part about the game is the graphics. The 3D graphics of the game makes it realistic and even more enjoyable.
Now become the most happening capitalist in the town by playing Monopoly in the Arcade spot. 
Pros
The game is exciting and gives the exact vibes of a Classic monopoly
The rules are almost the same as the classic monopoly
Cons
 More than 4 players cannot play it at a time
Monopoly Game on Game Pix
Game pix offers one of the best collections of free monopoly games. It is fun and exciting. With the rules followed. Winning the gem becomes easier.
You can play multi-player games as well. The new games are fun, and players can also avail themselves of great offers.
Classic Monopoly of the game can be played on this interface. You won't need any paper or dice for the monopoly games on Game Pix. 
Pros
Fun and exciting
An exact version of the traditional monopoly game can be played
No installation is required. It can be played online. 
How to Play Monopoly Online for Free on Mobile?
 Just like on PC, players can also enjoy Monopoly on mobiles. Though, the experience of playing it on a mobile is not as pleasant as playing it on a PC.
Computer or tablets have a larger screen that makes gaming more accessible, faster, and more convenient. Let us explore how you can use Monopoly Online for Free on Mobile.
Rento App
Rento is an online board game similar to monopoly. The concept of the game and most of the game rules are pretty similar to Monopoly's. It is a multiplayer game, and 2-6 players can participate simultaneously.
If you don't have anyone to play along with, the game has a mechanical interface where your opponent will be a robot operated by Artificial Intelligence.
You can invite your friends and other players to have a session. The game's goal is the same – the player has to become the wealthiest capitalist and drive the others to bankruptcy. 
Europoly
Europoly is precisely similar to Monopoly – the road names, city names, and other game props are based on Europe, not America. This game is free for Android users.
The game is more fun than classic monopoly because there are more cities, ferries, airports, and roads in the game. Playing in casinos and creating a vast real estate empire is the best part of the game.
Either you can play with live people or artificial intelligence. The end target is to grab all the squares on the board. 
Crazy Poly
Crazy Poly is almost similar to Monopoly. It is an economic strategy game. The reason it is called crazy poly is that it is grand. The graphics, content, and everything else is fantastic.
The game has many more added features than Monopoly; for example, the better scope for auction makes it even more enjoyable. Selling a property in Crazy poly offers more money than Monopoly.
Also, you can play it for free on your mobile by downloading the Crazy Poly app. 
Rento 2D Lite
This is an online business game of dice. The most crucial element of the game is the wheel of fortune. This is the best try if you want to enjoy the classic monopoly game better on your mobile screen and with some added features. 2-8 players can play this game.
Build lands and trade for properties while you keep on getting more affluent in the game. It is a 90 MB game that can be downloaded and played on your android. It is free on mobile. 
Business Game
It is an online economic board game that can be played by 2-6 players. It is a free multiplayer game. It is one of the liveliest games.
The target of each player is to compete against others while trading to get to the top and earn rewards. It is the best-known version of all the modern board games.
There are lands, structures, and other utilities that traders can deal with till they earn a lot and get to the best. It is pretty challenging to win this game. 
Is There a Free Version of Monopoly?
Yes. There exists a free version of the classic monopoly game. It comes under the sub category of board games for PC. However, this free version of the Monopoly game is only available for Windows users. 
Is Monopoly Plus Free on PC?
No. It is not free. One has to pay to play Monopoly online. There are specific versions of the game that can be played for free on PC and also on mobile.
But Classic monopoly or Monopoly plus are games you need to pay for. The good news is that – playing monopoly online costs less than playing the game physically on board.
So, if you want to experience the game and pay a bit less, online mode is the best for you. 
Can I Play Monopoly Online by Myself?
Yes. You can play Monopoly online for free. When you don't have any other live player to play with you, you can easily play Monopoly online by yourself.
The online interface will team you with a robot that will act as your opponent and play with the help of Artificial Intelligence. 
Conclusion
Let's conclude the post on how to play monopoly Online for Free!
I have covered here all the possible free versions of Game similar to Monopoly for PC and mobile.
Keep playing, but if you would like to get the best version, I would highly recommend you to get the paid version of Monopoly Plus.
I hope you enjoyed reading the post.
Thanks for your feedback!