Carpet is a great way to keep your floors looking polished and feeling soft. How
ever, it can be a challenge to clean up when you have kinetic Sand on the Carpet. 
If you want to know how to get kinetic sand out of Carpet, I have put together 6 super easy steps to help you get that done.
Let's get started!
What is Kinetic Sand?
Kinetic Sand is a patented formula of 98% sand and 2% polydimethylsiloxane that feels just like wet beach sand when mixed.
It's made in America and not tested on animals.
It is a great sensory toy that is non-toxic and safe for kids over the age of three.
It comes in various colors, and kids can mold it, squeeze it, bounce it, or shape it into any form.
Kinetic Sand is made by mixing water into the Sand, which causes the Sand to stick together.
It feels like regular Sand but includes the moldability of dough. The Sand is easy to clean up and can be used again.
How to get kinetic Sand out of Carpet?
Cleaning kinetic Sand off your Carpet is very easy. You do not require any water or carpet cleaner to remove it.
Use your hand to pick up the big pieces first. Then, you can use your vacuum cleaner to remove the rest of the Sand.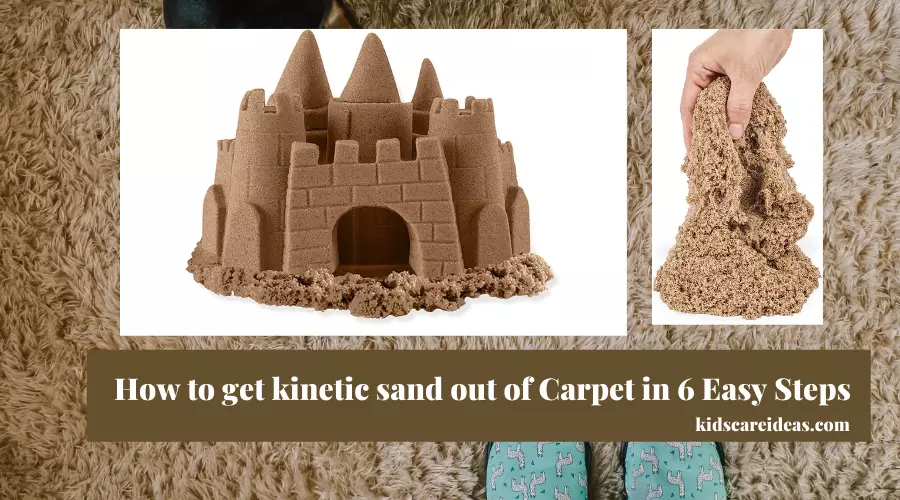 However, this technique only works if the Sand is on the surface of the Carpet.
But, if it's deep into the Carpet, you must use cleaning liquid to remove it. 
It's not that difficult to remove kinetic Sand from your Carpet.
You don't need any equipment to clean these items either.
So, how do you get rid of kinetic Sand that has been trapped in your Carpet for days or months?
Below are steps to do that:
Step 1: Remove the Kinetic Sand 
The first step is to sweep up as much Sand as possible. You must remove the bulk of the Sand before it enters your Carpet's fibers.
As a result, make sure you clean quickly when cleaning.
A floor cleaning brush is a way to go. Otherwise, it becomes permanent, and you'll need to hire a professional.
If you don't clean the area properly, you may wind up even more frustrated than before.
Sand will spread if too much pressure is applied to the Carpet.
Step 2: Make the Vinegar Solution
Next, use white vinegar to clean the area.
You may also use white vinegar to get rid of the sticky sensation from your Carpet.
Vinegar will remove all of the kinetic sand colors without harming the Carpet.
The solution consists of only 1⁄3 cup white vinegar and 2-3 cups de-ionized water.
Although you have the option of utilizing city water, we, however, advise using distilled water because it will not affect any debris.
Furthermore, distilled water is a lot safer and cleaner than city water.
Combine the water and white vinegar in a spray bottle.
Step 3: Spray the Solution
You need to apply the solution directly to the afflicted region. Spray until the area is damp.
However, don't spray too much water on the Carpet.
Keep in mind that the solution must dry for more than two minutes. Then, when you are done cleaning, wipe everything away. You may also use a clean white rag or paper towel as before.
You must now repeat the process over and over until no more vinegar is available.
It will be pretty tricky for the fibers to get lost during the process.
Step 4: Apply the Detergent Solution
The detergent is also another solution that's used to clean the Kinetic Sand. Therefore, after using the vinegar solution, you'll need to use a detergent solution. To create the solution, add one cup of water and a few drops of dishwasher detergent.
However, dishwasher detergent dissolves rapidly. As a result, we propose using it.
In a spray bottle, scatter them on a flat surface and see what happens.
These can be combined in a bowl or sprayed from a container. However, the spray bottle produces the best results.
Blot up the area with a clean rag or paper towel after spraying some detergent solution over it.
Allow the solution to sit on the surface for a few minutes before wiping it away.
You must repeat the procedure until the solution has been exhausted.
Step 5: Rinse and Dry
Pour a small amount of clean water over the afflicted area to begin.
This will improve the performance of the vinegar and detergent. After 2-3 minutes of waiting, blot the water with a clean cloth or paper towel.
It's time to dry the area after it's been washed. 
Step 6: Clean the Carpet with a vacuum cleaner
This is the last stage in the procedure. By now, you've removed all of the kinetic Sand from your Carpet.
All that's left to do is vacuum your carpets.
You don't need to, though. This is only required when you're attempting to clean a matted-down carpet.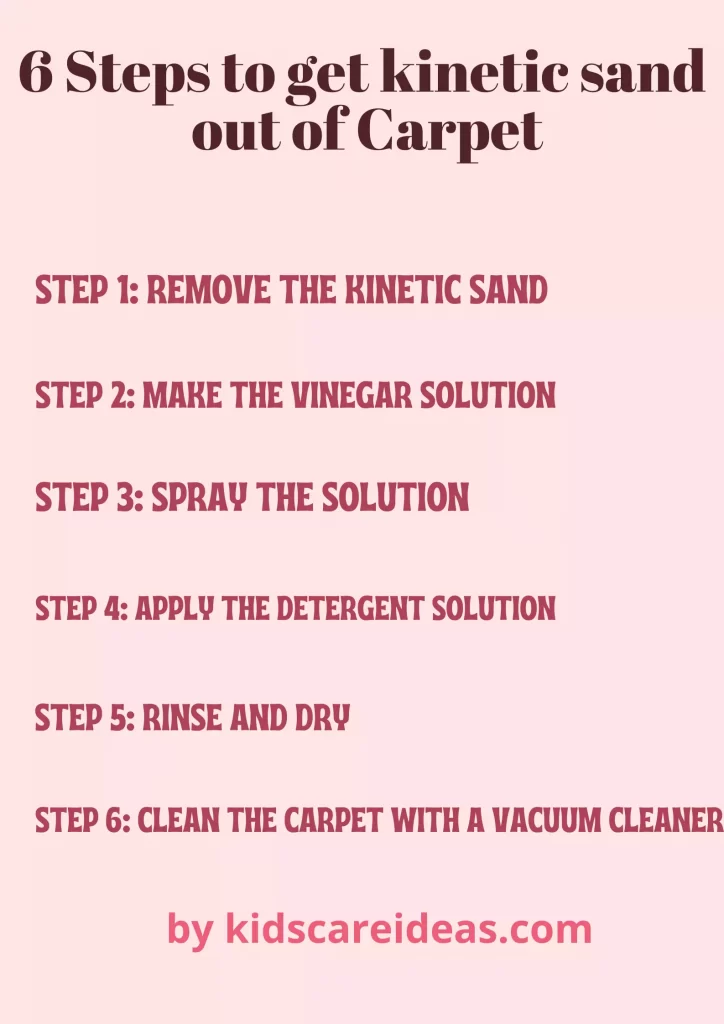 Does kinetic Sand leave stains on the Carpet?
Kinetic Sand can leave a residue on your Carpet that requires professional cleaning.
The good news is, it's not difficult to remove, and several different methods can be used, depending on the severity of the problem.
However, in most cases, you can clean it easily without any residue.
Is kinetic sand mess-free?
No. Because kinetic sand sticks together, it doesn't scatter or cling to clothing the same way ordinary Sand does.
However, it's considerably more straightforward to manage than regular Sand, and it's clear to keep the playing area tidy.
The Sand stays clean, sticks together, and does not spread.
Conclusion
Let's conclude the post on how to get kinetic Sand out of Carpet.
I hope you found these steps helpful and you have successfully removed kinetic Sand out of your Carpet. Even the kinetic sand sticks with our clothes. We also need to remove the kinetic Sand out of them too.
Thanks for your feedback!