You've been spending time and money on your Brio sets, and now you're wondering if they'll all work together.
Brio is a leading manufacturer of wooden train sets, and Brio enthusiasts love to collect all the different pieces.
But what happens when people want to expand their collection and find out that they can't because the new track pieces don't work with their current set?
They start to question if their other pieces will work with it.
I've decided to write this Brio Train Compatibility Guide because many parents have the same experience.
It is also because Brio trains are very popular, and there are a lot of parents out there who want to get Brio train sets for their kids but don't know what to get because track compatibility is a big question.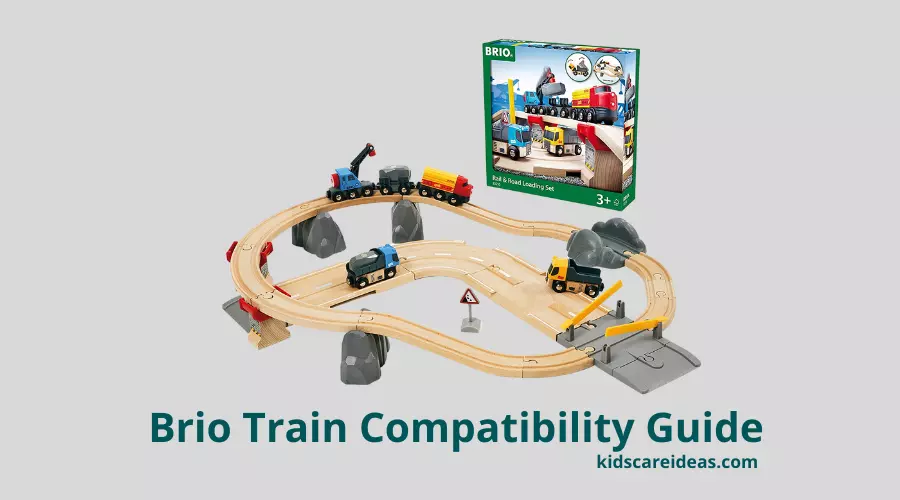 Let's get started!
What are Brio Train sets?
Brio train sets are wooden toy trains and tracks.
The company was founded in 1884 and has manufactured wooden toys for children ever since.
Brio is one of the most famous trains in the United States.
Their train sets, tracks, and accessories are available at major retailers like Toys R Us, Target, Costco, and Walmart.
The company even has its website with a section that allows customers to shop for Brio products online.
Brio train sets are a toy on the market that allow children to interact and build creatively.
The Brio Train Set product has been on the market for over 100 years, and all of its products are compatible with each other, making it easier to create new railroad layouts as they grow.
For those who want to give their children a creative and educational toy,
Brio train sets are the perfect gift. Many different types of trains are available on this line, including locomotives, freight cars, passenger coaches, cabooses, boxcars, tankers, flatbeds, etc. 
Are Ikea Train Tracks Compatible with Brio?
Ikea's BRIO collection of toys is compatible, but not all Ikea tracks are.
They have a system that is very different from the standard ones. However, most of them will fit together nicely, so you can mix and match the two brands to create your tracks.
Is Lillabo Train Set Compatible with Brio?
Yes, but only some of them are compatible. This is not surprising as they have been made by the same company and even come in identical packaging.
Unfortunately, there are some differences between them that you should know before buying Lillabo.
First, the size is different. Also, while many still fit together perfectly fine, some results from previous buyers have found a few problems when building a track with them.
The tracks tend to be too short, so the trains will only go in circles and not complete an entire curve.
Is Lidl Wooden Train Set Compatible with Brio?
Yes. The wooden train set sold by Lidl is compatible with Brio. This is due to using the same standard gauge as used by Brio.
The track system and the trains themselves will be perfect fits.
They also come in very similar packaging so you can buy one and know it's meant to go together with the other.
Does the Ikea track fit Brio?
Yes, some of the Ikea tracks fit Brio properly. Ikea tracks have a very similar design to the Brio ones, so they will certainly work together.
However, some of them come with specific instructions on how to use their system, and therefore they may not be compatible with others such as Brios.
Do Thomas and Friends fit Brio?
Thomas and Friends fit Brio very well. They use the same track system, and you can build an excellent track!
You can combine them and unleash your creativity.
Do Brio Trains Work on Thomas & Friends Trackmaster Tracks?
Brio trains work well on Thomas & Friend Trackmaster tracks. The gauge of the Trackmaster track is suitable for Brio Engines to run on it.
Still, the Brio trains work better on wooden tracks than the flat tracks on Trackmaster.
The train may not work well on an uphill setup, and you need to adjust again manually on the track.
Are Bigjigs & Brio Compatible?
Bigjigs Railway track and all accessories are fully compatible with the Brio ones, and you will not notice any incompatibility, and they work well together.
The grooves of the tracks of Bigjigs work well with Brio trains.
Which wooden train sets are compatible with Brio?
This is a very popular question about which wooden train sets will be compatible with Brio. 
Most of the wooden train sets from significant retailers are compatible with Brio.
The main thing to keep in mind is that some will only fit together if you buy them as a set.
Bigjigs Rail and Brio are similar in that they are both made of wood and have compatible track systems.
Other wooden sets like Thomas, Bigjigs, Jesse's Toy Box, Orbium, Conductor Carl, Melissa and Doug, and Imaginarium are compatible with Brio.
FAQs on Brio Train Compatibility
Q: Are all wooden train sets compatible?
Ans: All the wooden train sets available in the market are not compatible.
They all have a specific dimension for the track gauge, train size, and other measurements.
The ones having similar specifications of track gauge and other parameters are compatible.
Q: What age is Brio train set for?
Ans: Brio train sets are for kids of 18 months and above.
Q: How can you tell a Brio track?
Ans: You can identify a Brio track by looking into the Brio branding present in their track male connectors.
Conclusion
Let's conclude the post on Brio Train Compatibility!
Brio wooden trains are a good investment for any parent looking to buy a train set for their child.
With their bright colors and realistic train cars and accessories, they are sure to hold their interest for a while.
Brio-compatible track pieces fit other wooden train tracks, which is always a plus. 
Building a compatible toy collection with your child is a great way to add some creativity to your home and bring fun into your everyday life! 
I hope you enjoyed reading this post!
Thanks for your feedback!